In case the words "waist training" get you confused but you want to know more, you've come to the right place. We'll tell you what waist cinchers are all about, how to wear them and much more!
Waist training gained popularity quite recently, not least because of celebrities like Kim Kardashian or Nicki Minaj. It's them who flaunted their shapely bodies encased in waist trainer corsets on social media and encouraged others to do so. Millions of their fans and other health-conscious people all over the world picked up the trend and made waist training all the rage.
Today, wearing corset-like attire to train your body into a slimmer shape isn't just something only celebs do. Ordinary people have discovered the benefits as well!
The secret of waist training efficiency is actually no secret at all. Tightlacing slims you up by providing great support for your stomach and abdomen muscles.
While there's a lot of information on the hazards of wearing corsets and similar garments, we were hard-pressed to find people who knew about waist training. This is what we're here for: tell you more about it, why it can be beneficial and where to start.
Read this blog post: best waist trainer for plus size.
What's a waist trainer?
A waist cincher is a high-compression garment to help shape your midsection and slim your body down. Many people who tried waist trainers believe that they are a great help when it comes to exercising and improving your posture. Wearing one results in increased sweating from working out due to thermal activity. The result is the much-coveted hourglass figure — and it doesn't take long at all!
We researched the best waist trainer for women on our new blog post.
What's waist training?
Accordingly, corset training is the practice of wearing the said garment. Some wear it during workouts to give them a boost. Others wear it as an everyday piece of clothing to feel more confident and to keep a better posture. The important thing to remember is that waist training is intended to assist you in your waist-shaping, not to be a miracle worker in and on itself. This means that it's only one of the bricks, along with a healthy diet and exercise, on your way to a better shape. 
Waist trainers in the past and now
The ladies' laced-up undergarment was invented around the 16th century. Whalebone and small metal rods were inserted into the fabric for rigidity. Modern waist trainer manufacturers of corrective lingerie and bandage orthotics have modernized the technology.
Since the 2000s, brands have offered women to buy slimming corsets for weight loss and body modeling. It's these useful little things that gave birth to the concept of waist training and brought it into the everyday lives of health-conscious women. This concept involves gaining slimness with the help of daily wear of the accessory combined with physical activity. In just a couple of weeks of wearing a waist trimmer, the waist size of your waist might reduce by 2-3 inches. 
Today the accessory is considered a universal method of figure correction. The product range includes garments made of microfiber, nylon, and neoprene to form a slim and shapely waist. Wide latex waist trainer belts with stiff orthopedic ribs are advertised by Hollywood stars and fashion and fitness influencers.
Celebrities' chiseled figures motivate many to buy waist trainers. It helps you get that pretty hourglass shape and to wear tight clothes without any awkwardness.
Read this blog post: best mens waist trainer for weight loss.
Corsets vs waist trainers: what's the difference?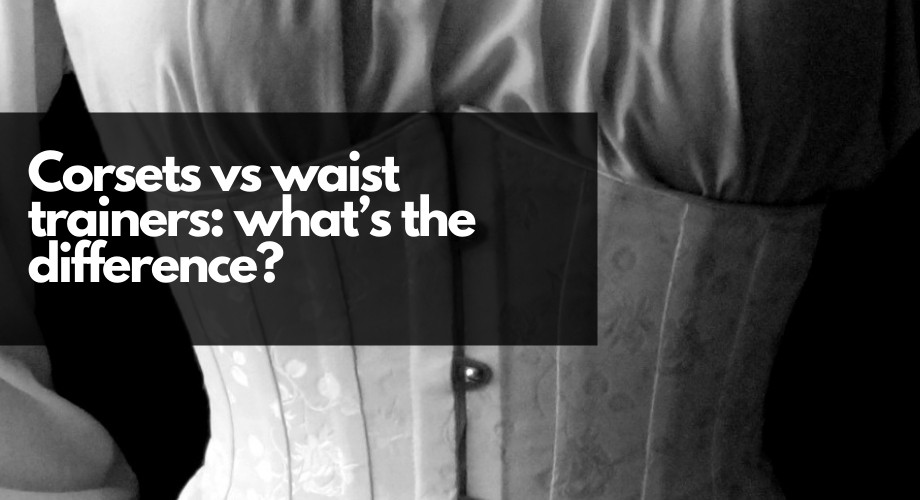 When it comes to these types of garments, you might be wondering if there's really a difference between wearing a corset and training your waist. Well, though both are used for this purpose they have distinct differences. These differences should not only separate them but also help inform your decision on which one may work better with what types of activities or goal-setting efforts you have in mind.
The process starts by understanding how each garment functions differently so as informed consumers we can make choices accordingly.
A corset has been historically known as an undergarment worn around the waist in order to make it daintier and give you curves (like those seen on fashion models). The waist trainers people wear these days are more often used for weight loss purposes; either because of postpartum issues or age-related issues such as postmenopausal hormonal changes leading towards belly fat accumulation in the waist area.
Waist trainers can come with various levels of support depending upon how much pressure must be applied against your body's natural contours while fitting comfortably into clothes.
More info in the post: best waist trainer for weight loss.
Here are a few things that differ waist trainers from corsets:
A waist trainer is a garment normally made from strong, durable materials that are also stretchy (like latex, spandex, or nylon) and has an adjustable sizing system.
A corset is an undergarment made of cotton, satin, or leather. Corsets usually have steel bones and lacing and aren't meant to stretch.
Thanks to the flexibility and breathability of materials they are made of, waist trainers are great during workouts and other physical activities.
Corsets are more of a fashion statement designed to give your body a dramatic hourglass shape. Working out in a rigid corset is highly unadvisable.
Waist trainer characteristics
Various waist trainer brands produce models from different fabrics, but the highest quality waist trainers are made of natural latex.
The body-shaping garment manufacturers make truly multifunctional products that suit any taste and need. This kind of fabric is lightweight, breathable, and hydrophobic, which means that:
It repels moisture;
It's wear-resistant;
It's very nice to the touch;
It has bactericidal properties.
According to multiple reviews, waist trainers don't restrict movement, fit the body snuggly like a second skin, and aren't visible under clothing. These garments are normally equipped with several rows of hooks that allow you to adjust the tightness of the accessory to fit your size perfectly. The cut might resemble a classic corset but it's very different structurally and functionally.
Will waist training work for you?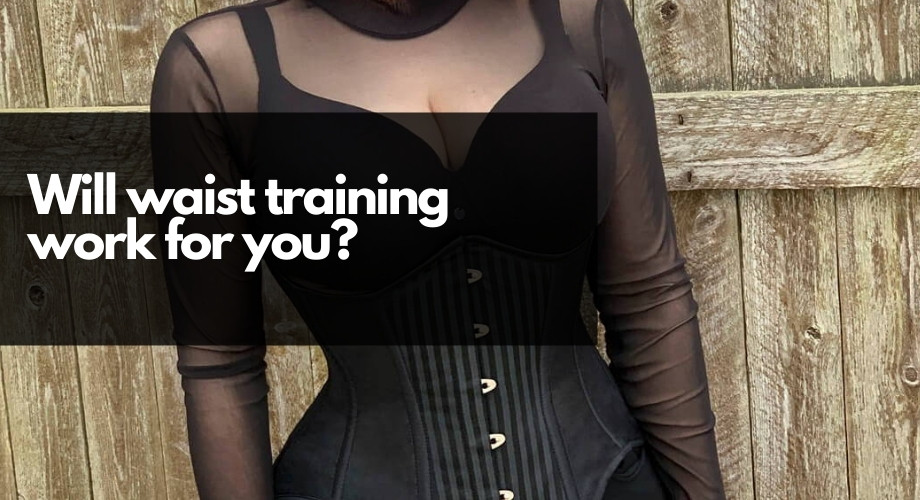 Anyone can wear a corset. No matter your size, body shape, or walk of life, a waist trainer will help you get those shapely curves. All you have to do is make sure you get the right size, type, and material of the garment to feel comfortable no matter what you do.
More info in the post: the best waist trainer for weight loss.
One of the great things about a waist trainer is that you can see the result instantly. Once you put the corset on, you can see your body getting a few sizes slimmer. It's also a nice little helper that assists you in achieving your workout goals.
A quality waist trainer will work for everyone who has been dreaming of a thin waist and flat stomach for years and couldn't achieve the desired results by dieting. The corsets help both men and women to lose weight as they provide moderate stabilization of the lumbosacral area during strength training.
Waist trainers also work great for postpartum women. According to many young mothers out there, these latex garments with three rows of hooks allow you to quickly slim up after childbirth and relieve back pain. In fact, these modest accessories offer multiple benefits:
They lift the bust;
They don't let you slouch;
They support the abdomen and abdominal muscles after a cesarean section;
Distributes the pressure evenly inside the abdomen.
Hundreds of young moms have been able to solve their diastasis problem in 3-4 months by wearing waist trainers and being physically active. Such a little thing but so many functions and benefits!
Who are waist trainers for?
Postpartum moms
Waist trainers are a real find during the postpartum period. The corset is indispensable in the recovery period after childbirth:
It helps support the muscles of the anterior abdominal wall
It tones back the abdominal muscles
It relieves the strain on the spine
It prevents bowel prolapse
It helps support the suture after a cesarean section
NB: before buying a waist trainer, be sure to consult a doctor.
Women actively trying to lose weight
Waist trainers are an indispensable aid in the fight for a slim waist. They help:
Reduce appetite. Just wear the corset before a meal and you'll eat a small portion of food. Say goodbye to overeating!
Remove fat deposits from your abdomen and sides. Just wear the corset and you'll notice your waistline getting slimmer.
Correct your posture. The garment will prevent you from slouching, making your posture more even and graceful.
Boob lift. It allows you to lift your breasts, making them visually larger and more attractive.
Create different looks. It goes with any clothing perfectly. With it, you can create unique looks and attract a lot of attention to your amazing self.
Those who love to work out
A waist trainer will help to solve problems such as:
Increased waistline. This is a very common problem for female athletes which happens due to the increased volume in oblique abdominal muscles. The garment helps solve this problem by simply "turning off" these muscles.
Moisture removal. Wear a corset during power and cardio training, and all the excess moisture will quickly leave the body.
Posture maintenance. A corset will help your back during strength exercises such as squatting with barbells where there is a high risk of damaging your lower back.
How does it work?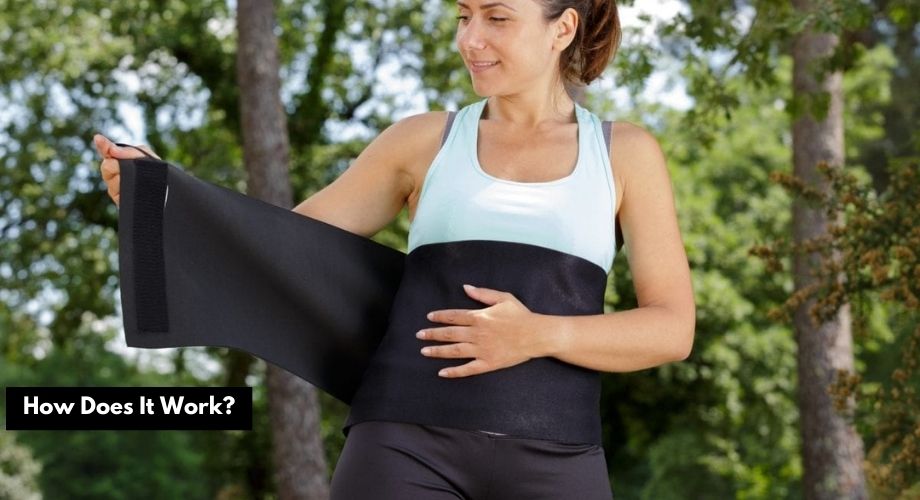 Fat loss of weight happens due to the withdrawal of moisture, reduction of appetite, and breakdown of fat in the problem area. When you wear the garment for a long time, the fabric creates a sauna effect on contact. Special treatment of the fabric increases insulating properties. Through open pores, excess moisture leaves the body along with toxins.
Particularly high levels of sweating occur during physical activity, which intensifies thermogenesis. In an intensive metabolic process, the body burns calories and produces heat.
As you work out, your waist trainer:
increases your body temperature;
speeds up the metabolism;
forces the body to use up fat reserves.
The absorptive cotton lining on the inside absorbs moisture and provides the body with comfort. But even if you are not a fan of intense exercising, a waist trainer can still help you lose weight. How? It simply doesn't let you eat more than you should! It compresses the stomach, which reduces the amount of food consumed. Over time, it forms a beautiful silhouette, making it proportional. The external transformation motivates you to reconsider your diet, develop healthier eating habits, and tighten up your muscles with exercise.
What to expect?
The beauty of waist training is that the positive results can be seen as soon as you wear the corset! If you're trying to get in shape, results will vary based on your fitness level, how intense your workouts are, your diet, even your genetics, and your lifestyle.
There's no need to go back and forth with your diet or exercise routine. Simply wear the waist trainer as directed, eat well-balanced meals throughout the day (with some healthy snacks!), drink lots of water while wearing it for best results! You will see instant benefits from this support before long-term effects are seen in a few months' time — so don't give up!
Will it help me lose weight?
No matter what you might've heard before, waist training isn't a type of diet. But it will help you lose weight simply because when you wear it, it compresses your stomach and abdominal area and doesn't let you eat too much.
It's important to understand that waist trainers can't magically make you lose weight as soon as you wear them. They will make your body assume a curvier shape but no more than that. What they can do is help you switch to a healthier diet and lose those pounds faster when you work out.
How to ensure the best results
Waist training can be a great way to help you slim up your waistline and get in shape but it's not enough on its own. If you want the best results, make sure that it's a part of an all-around healthy lifestyle. Include physical activity into daily life and follow nutrition guidelines from doctors and nutritionists.
In order to track your progress, do the following:
Take photos every time you reach your short-term goals
Drink as much water as you can
Follow a consistent and well-balanced workout routine
Eat healthily and avoid overeating
Wear your favorite corset/waist trainer up to 9 hours a day
Diet tips
In a world of quick fixes and dieting, it can be hard to make lasting changes in your life. However, with waist trainers, there is an option for you that will help curb hunger cravings:
Wear one when eating; this will help you feel fuller faster
Eat small portions of food
Make sure you get all the essential nutrients with your meals
Don't go on a diet because that doesn't teach your body how best to take care of itself in the long term so instead use cleanses as an initial jumpstart for healthier habits
Workout tips
Seeing how incredibly sexy your body looks in a waist trainer can be really inspiring. Challenge yourself. Try different levels of workout intensity. Remember the importance of strength training. In other words, do everything it takes to make those core muscles you have worked so hard on not only feel good but also look great!
What should a newbie know?
If you've never tried waist training before, you might be in for some surprises. Here are some things that might seem normal to others but might be unexpected for you:
The garment might feel a little stiff and hard to wear at first. It'll get easier as you wear it more and get used to it
As someone new to waist trainers, you shouldn't wear them for more than a couple of hours at a time
First results might not be long in coming
Overeating will likely be more difficult than before
You will soon find you don't feel comfortable without one
What parts of your body does it affect?
After the age of 30, the metabolism decreases by 1% every year. This thickens the subcutaneous fat in problem areas. Ladies who go to the gym and follow a strict diet know how difficult it is to get rid of the fat on the sides and on your belly. According to reviews, by wearing a waist trainer you can achieve positive results in half the time it takes to get there by exercising. When you exercise wearing the garment, the pressure in the hips, waist, and abdomen increases. Due to the increase in temperature, blood flow, and metabolism, the fat burns like in a furnace. Many people apply warming ointments to the body for the duration of the workout to enhance the effect.
Does waist training work for men too?
Yes, it does! It's not just women who can enjoy all the benefits of a waist trainer. Some men find it flattering and sexy to wear. Besides, they can definitely appreciate the back and abdominal support the garment provides while being completely invisible to the eye.
Waist trainer pros & cons
Pros
Comfortable to wear on an everyday basis
Prevents hernias and sprains during physical activity
Thanks to the thermogenic effect, burns fat in problem areas
Improves the posture
Relieves stress on the lower spine
Strengthens abdominal muscles
Suitable to wear instead of correcting underwear
Prevents stretch marks and sagging
Reduces food intake
Cons
Takes some getting used to
Not recommended to wear in case of skin issues in problem areas
Inadvisable to wear in case of kidney issues
Waist trainer types
1. Everyday garments
Designed for any occasion, the perfect everyday undergarment to make you feel confident. It's invisible and has an undetectable fit that will flatter every slimmer waist! Wear them at work or at home: underneath your clothes, unseen and yet creating a flawless foundation for any look. 
2. Steel-boned corsets with lacing
This dramatic-looking undergarment is great for both everyday wear and special occasions. The steel bones and tight lacing can create an incredibly sexy look. But if you don't like to feel the restraint of a tightly laced corset, you can always customize the fit to your liking.
3. Workout waist trainers
Designed for intense workouts. Whether you are doing cardio or strength training, your perspiration rate will increase with this one! This is the perfect item to wear while being active. Provides great support for your body but at the same time offers a perfectly comfortable fit no matter how intense your exercising is.
4. Vests
If you are looking for improved bust support, the vest is just what you need. Lightweight, breathable but offering as much support and confidence as possible. You can wear it with formal or casual attire, for everyday or special occasions. It's great for any lifestyle.
How to choose the right size
For the best results, your waist trainer should fit your body snugly and feel comfortable. It must not be too tight, not it must be too loose. You may experience some tightness when putting it on for the first time but don't worry; this will go away quickly with use! It's important to break in any garment before wearing it long-term so make sure you wear the garment regularly to let it stretch.
| Size | Waist Circumference (inches) | Dress Size Range |
| --- | --- | --- |
| XS | 22 – 24 | 0-2 |
| S | 25 – 27 | 4-6 |
| M | 28 – 30 | 8-10 |
| L | 31 – 33 | 12-14 |
| XL | 34 – 36 | 16-18 |
| 2XL | 37 – 39 | 20-22 |
| 3XL | 40 – 42 | 24-26 |
| 4XL | 43 – 45 | 28-30 |
Finding the right fit is extremely important. If you choose the wrong size, it will likely feel very uncomfortable and won't deliver the expected results. Always pay close attention to the sizing charts for every product you choose.
How to measure your size
1. Take a tape measure and measure the waist circumference in a tight position. To do this, inhale, pull your stomach in and measure your waist at the narrowest point. It's important not to tighten the tape too much so that it sticks to the skin.
2. Compare the obtained value with the size chart. If you have doubts about the choice of size, ask for assistance. The main thing to know is the smaller waist circumference in the tight position.
3. Do not take a corset smaller than it should be. You won't be able to fasten it. And even if you will, wearing an overly tight corset is extremely bad for your health.
How & when to wear
The best way to waist train while you're busy all day? Simple: wear a cincher with almost any outfit! There are so many styles to choose from that match any outfit perfectly. Waist trainers are comfortable, inconspicuous and the only thing you have to worry about is choosing the appropriate color.
Choose the color you can easily hide under your outfit. Choosing a seamless product might also be a good idea, especially if you plan to wear it with light or tight-fitting clothing.
Remember there are many different kinds of shapewear that can go quite well with your waist trainer. Combine different pieces for the best effect.
Waist training is a great solution for professional women. The garment supports your body and improves posture, which is an invaluable quality when you have to sit or stand for hours. Besides, it's the easiest way to feel confident no matter what you're wearing.
Doctors note that wearing the garment is absolutely safe for health (unless you have health conditions that make wearing shapewear impossible). Manufacturers advise strict adherence to the following recommendations:
Wear your waist trainer no more than 9 hours a day
Use it during workouts at home and in the gym. It will accelerate weight loss and help burn fat on your belly and sides.
Wear it for 3-4 hours when necessary. For example, during physical activity and some time after it. This option is considered the most effective because fat burning during workouts is boosted by the waist trainer sauna effect.
Select the product by size, taking into account the size of your waist.
Can you sleep in it?
Normally waist trainers aren't designed for sleeping but if you feel like you need some extra support for your midsection, choose a seamless, no-closure product for more comfort.
What kind of care do waist trainers require?
Quality garments are made of durable, heavy-duty materials. But it doesn't mean they don't require any care at all. If you want your cincher to provide a comfortably tight fit for a long time, you might want to follow these recommendations:
Wash your garments after every wear or two. You might want to buy a spare one to make sure you always have a clean garment to wear
Wash them in warm water and use a gentle detergent. Don't wash them in a washing machine and don't put them in a dryer
Don't fold or roll them when storing
FAQ
Ask any questions in the comments and we will answer soon.
What is the purpose of a waist trainer?
A waist trainer is a device that helps you achieve a slimmer and curvier figure. It supports your midsection, which can help improve your posture and make you look more toned.
What is a waist trainer used for?
Waist trainers are designed to help you achieve an hourglass figure by squeezing your midsection and shaping it into that classic female shape.
Can you eat with a waist trainer on?
You can eat with a waist trainer on, but it is not recommended. When you have the trainer on, it is important to drink plenty of water and avoid eating anything that could cause bloating, such as carbonated drinks or salty foods.
Wearing a waist trainer can make you feel full, which may lead to weight loss. But it could also cause unpleasant digestive symptoms such as indigestion or constipation.
Conclusion
Waist trainers might not magic your pounds away but they can help you get a shapelier, sexier figure. And weight loss won't keep you waiting if you combine wearing the garment with a healthy diet and a consistent workout routine.