Thanks to social media, waist trainers are quickly becoming some of the hottest commodities on the market today. They're extremely popular for their slimming effect that can help you fit into your high school prom dress or the sexiest tight-fitting dress.
But when it comes to choosing the garment, you might wonder where you can get the one that suits your needs and preferences perfectly. Not to worry; we have a list of places where you can get yourself a nice waist training garment. And we've also prepared some useful tips!
Where to buy a waist trainer?
You can buy a waist trainer in any number of places. Some popular online retailers and retail stores offer them, as do gyms with fitness products for sale or even at your local gym's equipment section!
Online stores
What can you do if you live in a place that has zero apparel stores selling waist trainers? Go online, of course! Thankfully, there's no lack of online outlets that can sell you corsets and cinchers of all shapes, colors, and sizes.
It may seem odd to buy something where you can't try it on, but as long as you ensure the retailer offers a good return policy where you can send back garments that don't fit or if they arrive damaged, then this is where you should look.
Online shopping can be a bit tricky when it comes to figuring out which waist trainer works for you. Sure, sometimes, there is the option of trying them on virtually but that doesn't really allow an accurate representation of how they will look and feel once worn all day long.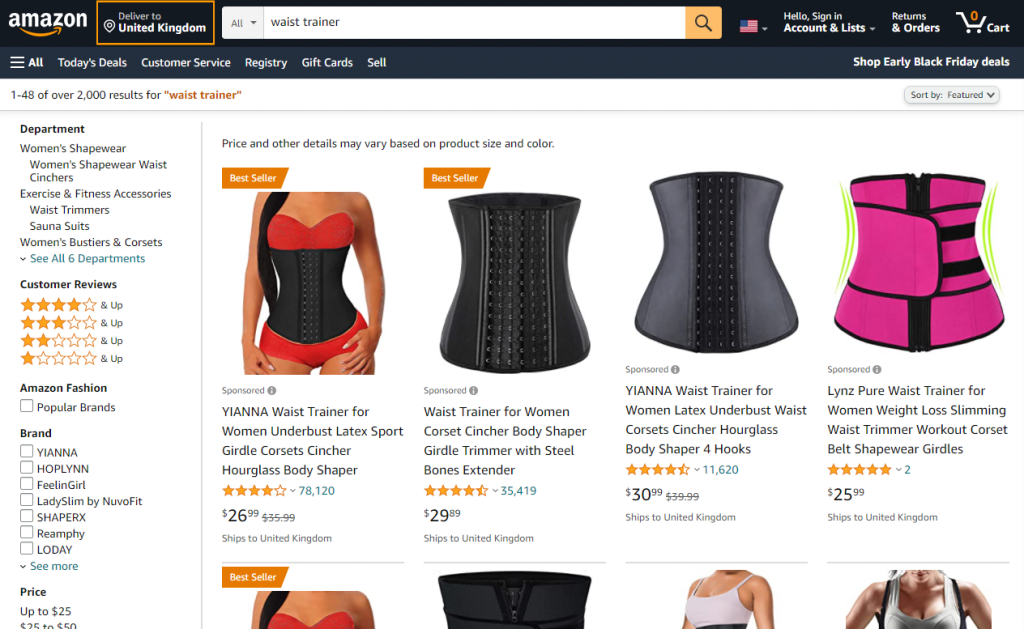 Amazon is one of the largest online retailers in the world that has virtually everything. They offer waist trainers and corsets and all kinds of shapewear you can think of.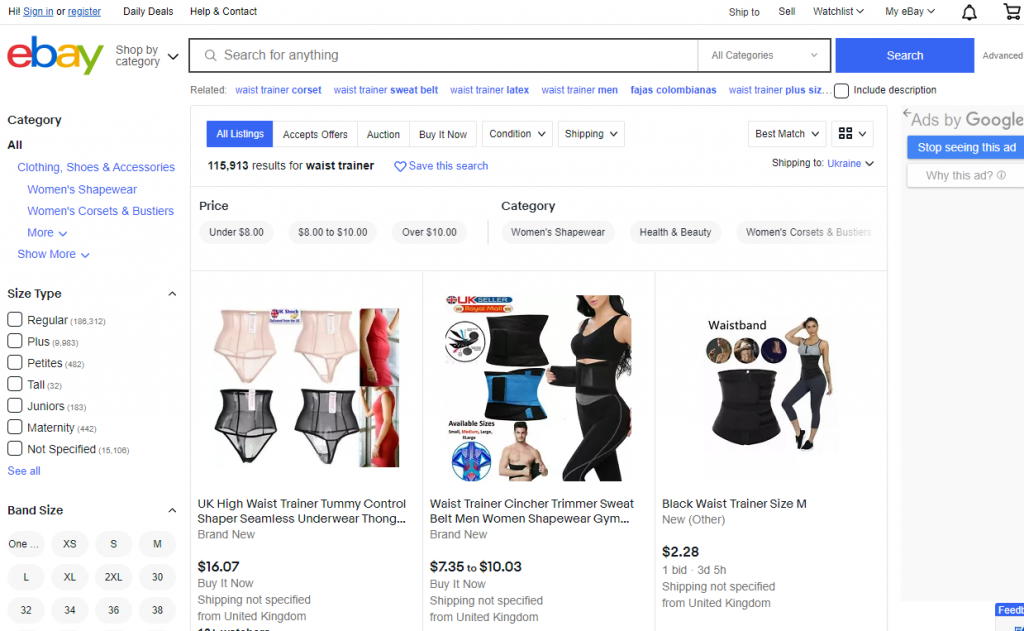 E-Bay is a bustling marketplace for all sorts of wares, from clothes to electronics. And it has one more category you can explore: corsets and waist trainers! Just search for "corset" or "waist trainer" on the website to find out what they have available at any given time.
Retail outlets
You can also buy your favorite waist trainer from a retail shop. Check apparel stores in the area for availability and sizing information before you make any purchases online. Brick-and-mortar stores may not carry every brand that exists out there, but at least you can check them out and learn about prices. More importantly, you can actually learn how the garments feel when you put them on!
You can, for example, visit your local Walmart. Walmart is a great place to find waist trainers and other types of shapewear. They have everything from cinchers to corsets.
Fitness centers and gyms
Are you looking for a waist trainer to work out in? Then a fitness center or a local gym might be your best bet. You can find them in the exercise equipment section and ask around for recommendations on what would work best with your body type or style preferences.
Although they may not have as large a selection of garments as online stores, most gyms have those few popular brands everyone knows. Besides, since this is where people in your area go to get in shape and lose weight, there's a good chance you'll be able to ask for recommendations on the brands and styles that might suit you best. And it's likely that you'll be able to try it on too. This takes all the guesswork out of buying one where there's no guarantee the size will fit.
Brand stores
Looking for a quality waist trainer, you definitely can't miss the brand outlets selling the garments. Here are some you might want to check out.
1. Nebility
Nebility is a China-based brand that started as one of many Amazon retailers in 2015 and developed into a separate online business by 2020. Today, it has warehouses all over the world and operates globally.
Featured products:
bodysuits;
bras;
panties;
butt lifters;
body shapers;
waist trainers.
Pros & cons (based on customer reviews)
Pros
high-quality products;
good service;
comfortable fit.
Cons
products lack firmness; waist trainers stretch out and lose shape quickly;
no back support;
website's sizing charts have issues that make it hard to choose the right size.
2. Ann Chery
Ann Chery is a reputable Colombian brand with over 30 years of experience on the market. They offer shapewear made with natural latex that comes from 100% natural sources. Now the brand operated worldwide, from Nothern and South Americas to Europe to the Middle East, Australia, and New Zealand.
Featured products:
posture correctors and slimming corsets;
waist cinchers (sports cinchers, body belts, corsets);
shapewear (bras, vests, butt lifters, panty girdles, postpartum and breastfeeding shapewear);
longline waist trainers;
leggings;
men's shapewear.
Pros & cons (based on customer reviews)
Pros
high-quality garments;
100% natural latex material;
great waist slimming/shaping effect;
products provide great back support & improve posture;
helpful size chart on the website; authentic Colombian waist cinchers.
Cons
might be hard to put on for the first time;
the corset boning might feel uncomfortable when sitting;
Choosing the right size might be tricky;
might leave chafing marks; might not be comfortable to wear for people with short torsos.
3. Squeem
Squeem is a true industry pioneer that's been offering quality shapewear to women since the 1930s. Originated in Brazil, the brand seems to understand women's desire to accentuate their curves and wants to help them do just that. Its philosophy is not to hide and smooth out but to emphasize what nature gave you.
Featured products:
Various shapewear products (panties, bodysuits, tops, and leggings);
Compression shapewear (curve-creating, curve-controlling, and curve-smoothing).
Pros & cons (based on customer reviews)
Pros
high-quality garments;
100% natural latex material;
compression products fit comfortably;
dramatic body-shaping effect;
Products offer relief for postpartum issues and muscle soreness;
feels nice against the skin; Great return policy.
Cons
products might wrinkle and roll up when sitting;
in some products feels weak and doesn't hold shape;
hook-and-eye corsets might be visible under clothes.
4. Charmian
Charmian is a US-based retailer that also sells shapewear all over the world. The brand boasts the high quality of its garments and claims its adherence to the highest standards of fashion, elegance, and functionality.
Featured products:
corsets;
accessories;
sports & yoga waist trainers.
Pros & cons (based on customer reviews)
Pros
high-quality materials provide a comfortable fit while shaping your body;
provides great support for the bust and shapes the waist;
catchy fabric on the outside keeps clothes in place which adds to comfort.
Cons
the material might initially feel too stiff;
latex products might feel too stretchy and don't cinch the waist;
some of the products aren't very durable and tend to rip, especially during intense training. the size chart might not be accurate.
5. Yianna 
This is another waist trainer brand from the US with a large range of corset-like garments and shapewear. The brand sells worldwide via Amazon and focuses on producing garments for fitness and yoga, as well as everyday shapewear.
Featured products:
shapewear;
sports bras;
lace bralettes.

Pros & cons (based on customer reviews)
Pros
sports products offer perfect fit during exercising and don't wrinkle or roll up;
products feel comfortable whether you stand or sit or exercise;
products stay invisible under clothes.
Cons
fitness products materials might be irritating to sensitive skin;
waist cinchers might wrinkle up when wearing;
the size chart might be confusing.
Things to consider before buying a waist trainer
As with any major purchase, it's important to consider your options and make an informed decision. Here are a few things you might want to consider before actually buying the garment.
Comfort
Feeling comfortable when wearing a corset is extremely important. First, just because a feeling of discomfort can ruin your mood and lose any motivation you had for waist training. Secondly, because discomfort means either the wrong size or that it's way too tight. These things can seriously harm your health if you ignore them. Whatever cincher you choose, remember that waist training must be enjoyable.
Materials
Different waist trainers have different purposes and therefore are made of different materials. Lace-up corsets are often made of silk, cotton, or leather. Waist cinchers are made of quality latex. Neoprene is often the material for workout trainers.
Whatever the material is, make sure it's high-quality, durable, and breathable. If there's boning, make sure it's made of steel and not plastic. Also, make sure that the material feels nice to the touch and doesn't irritate your skin.
Learn how to take proper care of your cincher. Can it be washed in a washing machine? What about hot water? The garment's durability and longevity depend on how well you treat it.
Size
Like any garments, waist trainers come in various sizes. Finding the size that's right for you shouldn't be a problem if you buy it at a local store. It can be somewhat different when you're buying online, though.
Make sure that they have a size table. Take your body measurements and compare them with it. Contact a store manager and ask for advice if you have to. Choosing the right cincher size is extremely important.
Here's another thing to think about. As you progress on your waist training journey, you are likely to lose some inches off your waist. This means that you'll need an adjustable garment that can keep up with changes in your figure. Choose a trainer with two or three rows of hook-and-eye closures.
Lifestyle
Another thing to consider is what you need a waist trainer for. Do you need proper back support during long workdays? Pick a regular cincher. Would you like to slim down your waistline and achieve an hourglass figure? A corset would be the right choice for you. Do you want to have a little extra fat-burning boost during your workouts? Choose a durable sports waist trimmer.
Types of waist trainers
And of course, to make the right choice you need to know what type of waist trainer you need and what exactly you need it for. Believe it or not, there are many different kinds of garments to choose from. Here are the most common ones.
Corsets
A steel-boned bodice with lacing at the back, this garment was originally designed to accentuate curves while providing the perfect support for your body. This type of waist trainers dates back centuries and is still quite popular with those who want to have that dramatic hourglass body shape.
Thanks to the lacing, you can adjust how tight a corset sits on your body, and thanks to the metal bones, it can be quite restrictive.
Waist cinchers
If you've seen those celebrities advertising waist trainers on social media, you should know that it's waist cinchers they're harping about. These are very similar to corsets in terms of their purpose with some distinct differences. For example, cinchers don't incorporate lacing and have eyes and hooks instead. They are often made of flexible latex and there are breathable mesh versions for warmer climates.
Waist trimmers
Unlike the other two, these are specifically designed for exercising. Most trimmers are made of thick, durable neoprene and create a sauna effect increasing the temperature around your midsection. This way they help you sweat and burn extra fat on your waistline.
Reasons to buy a waist trainer
1. Waist training is in style
You don't want to miss out on the latest trend, do you? Waist training is all the rage! Celebrities have been at this new fad since its inception and other women are now catching on as well. Ladies buy the garments, wear them, notice the positive results and share their experience. This only makes corset-wearing more popular.
2. Corsets make your body curvier, shapelier, and sexier
Waist training is a great way to get in shape and feel confident about yourself. It will give you that impressive hourglass figure without even having surgery or working out. All it takes are some corset-like garments worn underneath or on top of your clothes. Yes, it's that simple! Whenever you want to go on a date, attend a party, or just look absolutely fabulous, your corset is there for you.
3. It helps you lose some inches and pounds
If you're looking to lose weight, the Waist Trainer is a great investment. It helps target problem areas like your waistline. This new waistband will make you eat less and exercise more. Workout waist trainers are made of 100% natural latex or neoprene, which creates an inferno around your midsection and helps burn fat more effectively.
4. Celebrities love it

You've probably already seen the Kardashians and other celebs posting their pictures wearing waist cinchers and swearing by them. Looking at those ladies, you can't help but want to follow their example. After all, they all have very shapely figures.
5. Waist trainers make exercising more effective
Do you like to stay in shape or are looking for an effective way of keeping your body toned? A waist trainer can help you with that. The garment helps get even faster results because it supports weight loss by warming up your midsection. Besides, waist trainers designed for fitness are very flexible and allow you to move freely without feeling restricted.
6. It helps you eat less
Whether it's a rigid corset or a flexible latex cincher, waist trainers are designed to sit tight on your body and compress it into a slimmer shape. The pressure on your stomach means that you can't eat a lot. So whenever you wear this useful waistband, overeating is simply not an option. Sure, the feeling takes some getting used to but you'll love the result.
7. It helps get your body back in shape after childbirth
Are you going through a postpartum period and want to get back into shape quickly? Waist training will help with the process of getting back on track and making sure everything looks as good as before pregnancy all over again! Besides, it's a great confidence booster and we all know postpartum moms need it.
8. Joining the club
The number of waist training fans grows day by day. Today, it's a massive community of women (and men) who tried corsets, loved them, and want to let others know. It's great to talk to like-minded people, share your experience, become a part of this community.
Joining the club is easy: just find waist training-related groups, communities, or forums online and go for it!
9. Lots of positive testimonials from thousands of waist trainer users
When you want to learn about a product, the information you find in ads just isn't enough. You'd want to hear from real people and the real experience they had with corsets. And the great thing is you can absolutely do that! There are lots and lots of reviews online and you can even read some of them on our website. This is a great way to learn more about the product from customers like you.
Conclusion
Purchasing a waist trainer should not be a problem if you know exactly what you are looking for. When you have a clear idea of what type and size you need, buying the right thing will be very easy. Who knows, maybe you'll want to buy a few garments for different occasions.