Do you want to boost your workout sessions and cut off the extra inches from your waist? Jsculpt fitness waist trainers are designed to help promote excess sweating in the user's midsection by increasing thermal activity and burning off excess belly and abdominal fat. If this is something you have wished for a long time, you are at the right place!
Many Instagram models and celebrities are often seen wearing belts around their waist and promoting them on their social media platforms. If you wish to achieve a cinched waist like them, Jsculpt waist trainers promise to sculpt your waist to your desired size.
Jsculpt Fitness is a clothing company that has designed a high compression comfort garment for women to wear during any time of the day. It is designed to enhance your body's natural curves and provide you with a great support system.
There are many different factors you should take into consideration before investing in any garment that impacts your body. With so many options in the market, it can get overwhelming to choose between them and pick the best option for yourself. Thus, we wrote this article to provide you with all the necessary information about Jsculpt waist trainers so you can make the right decision.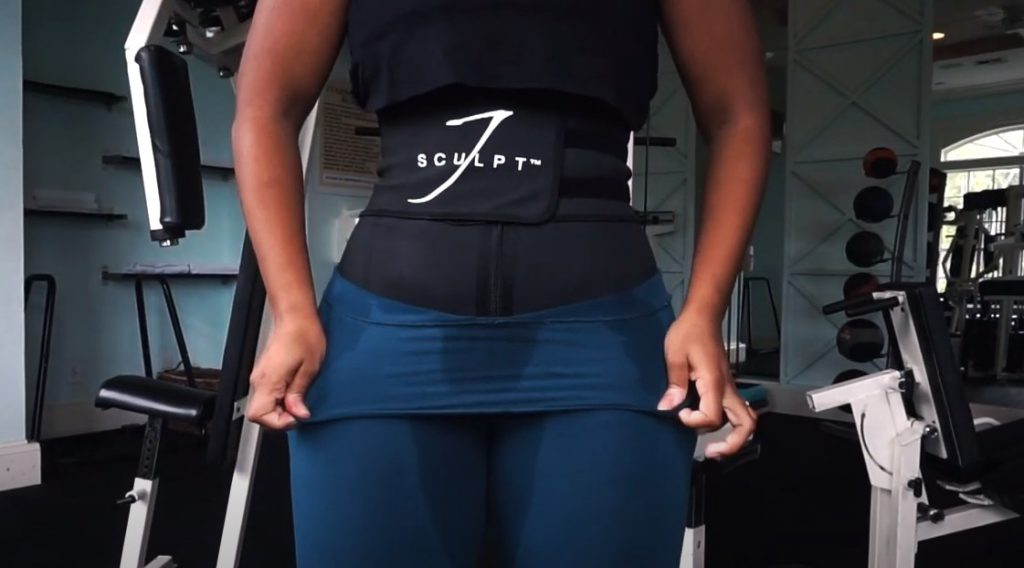 Jsculpt Original Fitness Belt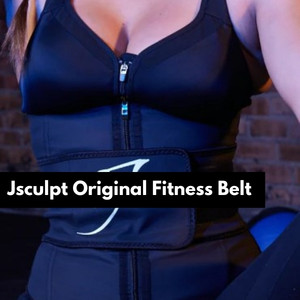 This Original Fitness Belt by Jsculpt has three tiers that promote sweating in the user's midsection and help in reducing water weight. During high-intensity workout sessions, users experience optimal comfort when wearing this fitness belt. It is made of 100% latex, and the inner lining is 100% cotton. The inner lining is designed to absorb all the excess sweat, so the fitness belt does not slip off during workouts. Customers often buy this fitness belt along with the Jsculpt Drenched Sweat Cream, which enhances the excess sweating by increasing the body's temperature, resulting in more fat burn.
Pros
Compatible with high-intensity workout sessions
Extremely comfortable
Sweat absorption
Made with 100% latex
Cons
The largest size only goes up to 43 inches
Jsculpt Original Fitness Belt
Summary
The Jsculpt Original Fitness Belt is amazing! The material is high-quality and durable, and the design is sleek and comfortable to wear during workouts. I've been using it for a few weeks and have already noticed a difference in my midsection. The compression and support it provides is fantastic. Highly recommend to anyone looking for a great waist trainer.
Jsculpt Logo Mania Reversible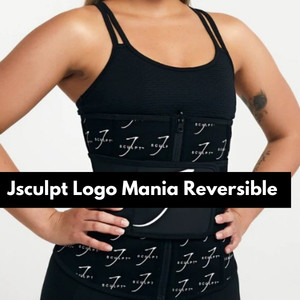 This reversible waist trainer belt offers you two different ways of wearing your fitness belt. One side is patterned, while the other side is a solid color. You can switch the sides depending on your mood in the gym. If one side gets dirty, you can always switch it to the other side without thinking twice. It offers all the same great benefits of the Original Fitness Belt, with the addition of an additional band. This additional band can be easily removed if you want to wear your waist trainer under any clothing. It offers extra support and compression and is more effective.
Pros
Two different sides
It can be adjusted according to the user's mood
Additional band for more effective results
Cons
The largest size only goes up to 43 inches
Jsculpt Logo Mania Reversible
Summary
I recently purchased the Jsculpt Logo Mania Reversible waist trainer and it's great! The reversible design is a nice touch and the material is high-quality and durable. It provides excellent compression and support for my midsection during workouts. The design is sleek and comfortable to wear under clothing. Highly recommend to anyone looking for a stylish and effective waist trainer.
How well do Jsculpt waist trainers work?
As mentioned earlier, there are various factors you need to consider before buying a waist trainer. We will be providing in-depth information regarding how well Jsculpt waist trainers work under each category of factors. Some of the factors you should consider are the fitting, material, fabric, flexibility, durability, and size.
Fabric
Jsculpt Fitness waist trainer is made of 100% latex on the outer part, and the lining is made from 100% cotton. The reason both these fabrics are used is due to the fact that they help in the absorption of sweat and promote excess sweating by increasing the user's core temperature. Latex is an extremely stretchy material that assists the waist trainer in being flexible at all times.
Comfort
Jsculpt waist trainers are equipped with a Velcro adjustment system for adjustment purposes. The waist trainer does not consist of any steel boning and thus, is very comfortable when worn for long hours. It also ensures that it covers the user's entire midsection without causing any rolling on the edges.
Functionality
It is crucial to understand the functionality of a waist trainer depending on the purpose you are buying it for. For example, if you are looking for a waist trainer to wear to the gym, it will not be the best idea to pick a steel-boned waist trainer because it will not allow room for a lot of movement. The Jsculpt fitness waist trainer is designed to help users get rid of excess water weight and to be used in conjunction with high-intensity workouts in the gym, including cardio, lifting, treadmill, and more. It allows a lot of room for movement because it uses a Velcro adjustment system instead of steel boning.
Sizing
Another great thing about Jsculpt is that the brand goes out of its way to cater to women of all shapes and sizes. The sizing starts at XS and goes all the way to 5XL, which is a wide range of sizes.
Availability
If you are accustomed to doing all your shopping from Amazon, not being able to find Jsculpt waist trainers there can be a bit of a bummer. The waist trainers are exclusively available at the Jsculpt official website, where you can check out more of their products and understand the brand's core values.
Frequently asked questions
How much time does it take to see results?
Waist trainers should be used for a specified amount of hours each day for several weeks or months. Because some people notice benefits faster than others, there is no set time frame for everyone. Some people notice a flattening of their stomach and an improvement in their posture within a few days, while others see similar changes after a few weeks. On the other hand, the waist-cinching effect is felt and observed right away.
Can waist trainers improve my posture?
A waist trainer tightens around your waist, applying pressure to your core and perhaps extending and straightening your spine for improved posture. In the long term, this will assist you in becoming more upright and balanced.
Can I wear my waist trainer to sleep?
Think twice if you're thinking of going to bed with your waist trainer. It may be inconvenient to go to bed with your waist trainer on, and it may influence the quality of your sleep.
Is there a difference between a corset and a waist trainer?
Corsets are garments worn beneath your clothes that use tight laces to contour your form and reduce your waist size. Waist trainers use compression materials to pressure your abdominal and belly areas, causing you to sweat profusely. As your body generates more heat, you sweat and burn tummy fat.
Are waist trainers safe to use?
If worn correctly for the specified amount of hours, waist trainers are safe to use. Before purchasing a waist trainer, speak with your doctor if you have any health concerns. Pregnant ladies and women who have just given birth should also consult their doctors before purchasing maternity shapewear. Never use your waist trainer for more than the suggested amount of hours or tighten it too tight. Remove the waist trainer if you experience any pain, and double-check that you purchased the proper size.
How can I clean my Jsculpt waist trainer?
Get a small bucket of lukewarm water and some detergent ready. Then immerse the Jsculpt waist trainer in the water with the detergent a few times before rinsing it with cold water. After that, you may hang it to dry. Do not dry clean your waist trainer or give it in the laundry. Always hand wash your waist trainer for longevity.
Where can I purchase Jsculpt waist trainers from?
Unfortunately, Jsculpt waist trainers are unavailable on Amazon, unlike many other waist trainer brands. This might be the only downside to them, as they are available exclusively on Jsculpt's official website, where you check more of their products and place an order.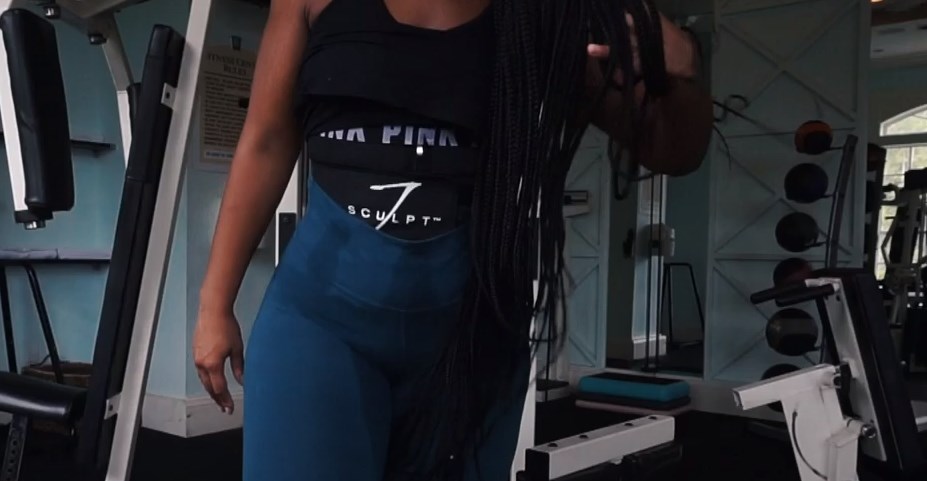 Conclusion
Jsculpt waist trainers are one of the best-selling waist trainers on the market. They consist of everything a user would look for in a waist trainer. The waist trainers provide optimal comfort, waist-cinching, loss of water weight, a slimmer appearance, and an enhanced workout experience. Users praise Jsculpt waist trainers for their comfort level because they do not consist of steel boning. Instead, they use a Velcro adjustment system which helps them easily adjust the trainer's fitting.
Users can use the waist trainer with any kind of high-intensity workout. The Jscuplt waist trainer receives so much limelight because it is specifically designed for workout sessions. Its inner lining is made from 100% cotton, which is great for moisture absorption so that the belt does not fall or slip off during a workout. Unlike other waist trainers that use steel boning and do not allow much room for movement, Jsculpt waist trainers have ditched the steel boning for a more comfortable Velcro adjustment system. This adjustment system does not restrict the user's movement and allows them to stay comfortable for long hours.
We understand that buying a waist trainer can be confusing because of the number of different waist trainer brands on the market. Thus, we wrote this review article to guide you in the right direction and equip you with all the necessary information. We hope this review was helpful and that you are able to choose the perfect waist trainer for yourself.