Sculptshe is a top brand as far as waist trainers are concerned, and many ladies have made it their number one brand for body shapers. They market activewear and shapewear for ladies of all sizes using the best compression technology and high-quality fabrics. Using the innovative breakthrough design, Sculptshe has been able to position itself as a market leader that many ladies turn to when seeking out high-quality fashion accessories.
The sole purpose of the brand is to provide women with the most effective garments to help them achieve their individual goals. Ever since they broke into the market, Sculptshe has released a series of inner wear, which also include bodysuits and waist trainers.
In this review article, we want to review some of the bestselling Sculptshe waist trainers. Take your time to go through the shortlist, and we are sure that you will find a waist trainer that will satisfy your need.
Bestselling Sculptshe waist trainer
1. Sculptshe Tummy Wrap Waist Trainer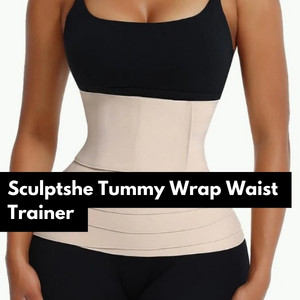 The first one we want to review is the tummy wrap waist trainer. As you may know, tummy wraps are popular among women undergoing postpartum recovery soon after giving birth to their child, but this accessory is a tummy wrap and also a waist trainer. We consider it to be a wrap on top of a waist trainer. This one will give your midsection and waist a perfect shape while helping to burn calories and fat at the same time.
Despite its high compression, you can wear it indoors for hours, but it will not make you feel uncomfortable. Sculptshe tummy wrap is made up of 65% polyester and 35% latex with excellent durability and elasticity. The elastic, stretchy materials allow you to move without inhibitions, while the durable fabric will not break but hold firm for a very long time.
The design allows you to make adjustments using the loop fasteners and high-quality velcros, increase metabolism, and flattens your abdomen so your curves can be more visible. This waist trainer and body wrap will essentially give you an hourglass shape anytime you wear it. Above all, the structure will provide sufficient back support, so you don't feel uncomfortable or suffer from back pains when sitting or standing.
Pros
Durable fabric
Boosts metabolism
Accentuates the curves
Cons
The loop fasteners are delicate
2. Sculptshe Triple Everyday Wrap & Waist Trainer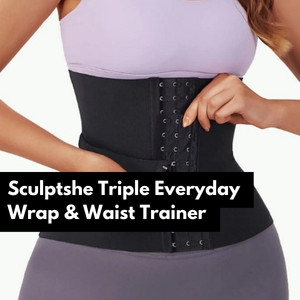 Second, on our list of the bestselling Sculptshe waist trainers is another wrap and waist trainer combo. Similar to the first one we reviewed above, this one offers compression to the midsection to address body fat in the waist and belly region. The Triple waist trainer and wrap is easy to wear and will not make you feel uncomfortable. This trainer can be worn indoors, but it is the perfect waist trainer for your outdoor events for two main reasons.
Firstly, it will not create visible bumpy lines that onlookers will see through your clothes; secondly, it will give you that curvy hourglass figure. This model is perfect for women who wish to make their waist smaller by reducing it by a few inches. Unlike some of Sculptshe's other trainers, this one has a much longer torso to smoothen bumps and lumps. Above all, it will give you a flatter tummy so your clothes will fit just right.
The Triple Everyday waist trainer and wrap has three buckles for easy adjustment and quality steel bones for extra waist support and crimping prevention.
Pros
IteHigh quality segmented fasteners and hooks
Adjustable features
Perfect for outdoor use
Premium compression
Cons
Not suitable for extremely tight clothes
3. Sculptshe Firm Control Adjustable Waist Trainer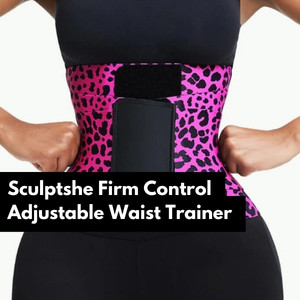 Do you have a wide waist that you wish could be made smaller so you can wear those sexy pants and skirts you like? Then try the Sculptshe Firm Control Adjustable Waist Trainer. This trainer is designed to help you reduce the width of your waist by a few inches. It is also a very good accessory for correcting your posture and eliminating lower back pain. This waist trainer can be classified as both beauties as well as an orthotic accessory.
Another benefit it offers is that it prevents injuries, especially when you wear it during workouts. Sculptshe firm control has an adjustable band that is ideal for gym work and other fitness activities. As you work out, you will see the positive effects of your work in plain sight. Your abdomen will flatten, and your waist will transform into an elegant shape
You should also know that wearing this waist trainer while you cycle, lift weight or engage in any other vigorous sporting activity will help you burn stomach fat much faster. This is one of the best fitness accessories on the market.
Pros
Double compression
Fat burner
Easy to wear
Cons
Not the best for outdoor social events
4. Sculptshe Neoprene Double Waist Belt & Waist Trainer Vest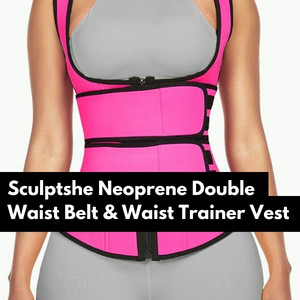 Fourth on our list is this Neoprene double waist trainer that comes with a belt. The first thing that may attract you to this trainer is the stylish design that will fit your frame perfectly. The sticker is quite firm and will stick to your body. This is one waist trainer that will not wear and tear anytime soon because of its durable materials and structural build. The 9 steel bones cinch the waist to create perfect curves. This waist trainer will make your waist appear smaller.
For your upper body, the effect of the best design comes into play. The U-neck design will lift your back and provide base support for your bust, so it looks fuller and firmer. If you have a history of back pains, you should wear this vest waist trainer to reduce or eliminate the pain.
The soft neoprene fabric will not irritate your skin; it is elastic and soft with a soothing effect. This is why you can wear it for hours and not feel uncomfortable. Another thing we should point out is that the double waist belt provides an extra binding force that you can adjust at will to reflect your physical needs.
Pros
Skin-friendly fabric
Great for the upper body
Powerful sticker
Cons
It may cause you to sweat more due to the extra compression
5. Sculptshe Triple Belts with Hooks Waist Trainer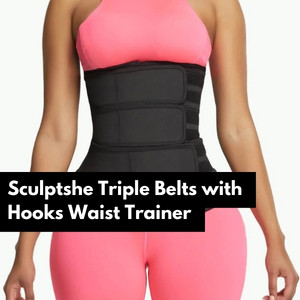 This waist trainer with triple belts and hooks is ideal for women with an overly larger midsection. Do you have a wide waist and excess belly fat hanging off your sides? This shape makes your appearance less appealing, right? While you continue to sweat it out in the gym, you can still look nice in your outfit, pending the time when your physical exertions begin to take effect.
Sculptshe Triple waist trainer belt with hooks is made with high compression latex material that is elastic. The purpose of this design is simple, and that is to burn calories, release toxins from your body through sweating, provide tummy control, and help new mothers with their postpartum recovery. The 3 belts and rows have big hooks and eyes so you can easily wear and adjust the tightness to suit your body shape m
This waist trainer also allows you to adjust the compression during your workout session. You can increase your intensity without putting your body at any risk of injuries. Above all, it will help you get an hourglass figure by cinching your waist.
Pros
Super waist and abdomen control
Adjustable tightness
Ideal for all body types
6. Sculptshe Three Belt Waist Trainer with High Compression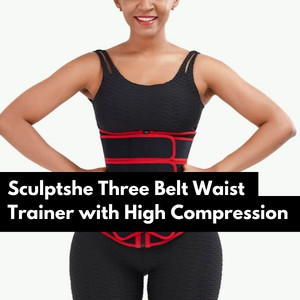 This Sculptshe waist trainer has three belts that provide an extremely high compression effect to give you a stunning shape. If you really want those curves of yours to come out in all the right places, we recommend this one. The zipper closure has a buckle for extra reinforcement alongside three adjustable belts that will cause the trainer to hug your body effectively.
The 10 steel bones the belt has supports the waist and back areas so you can maintain the right posture at all times. This waist trainer will not give you back pain or cause your posture to worsen. Rather, it corrects whether irregular posture you may have so you can maintain a straight angle.
The 100% neoprene lining is thermogenic so expect to sweat anytime you have it on. Also, note that you should consider wearing it underneath a light fabric, not a thick one.
Pros
The  best for an hourglass shape
It flattens the stomach
Extra back support
Cons
It will make you sweat a lot in hot weather.
7. Sculptshe Double Belt Waist Cincher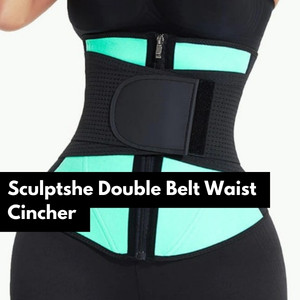 Last but not least in our review of Sculptshe waist trainers is this double belt cincher. The manufacturer attached an extra belt for firm waist control which also has an effect on the stomach to flatten it. The velcro straps are adjustable with a secure fitting. This design is to ensure that anytime you wear it, the trainer grips your abs and compresses fat in your midsection area.
The core is made of a quality neoprene fabric that can help you achieve your weight loss goals and shaping goals. Your silhouette will be enhanced by merely wearing it under your apparel. The good news is that you can start looking elegant, and your clothes will fit you well long before the effect of your workouts becomes visible.
The extra waist belt is removable, so you can use the waist trainer with or without the belt. If you decide to use the belt, the compression will be much higher. This waist trainer has 6 steel bones for extra support.
Pros
It has anti-slip g-hook
Free tightness adjustable loop
Affordable
Final Thoughts
Sculptshe waist trainers are some of the best body shapers. All the trainers we have reviewed so far are some of their bestselling shapers that guarantee value for money. Some of them are conducive for workouts or daily use, but others can be used for both purposes. Bearing this in mind, decide on the one you prefer and identify the model that will best serve your purpose.
Sculptshe Waist Trainer FAQ
Which is the best Sculptshe waist trainer?
None can be defined as the best since they are all made of high-quality fabrics and designed to serve a purpose. Some of them provide more waist compression while others focus on both the waist and the upper body.
Can I wear a Sculptshe waist trainer for my workout sessions?
Yes, you can. A perfect example is the Sculptshe waist trainer vest. This one will hug your abs, flatten your stomach and cinch your waist.
How long can I wear it?
You should not wear a waist trainer for more than 8 hours each day.