If you have been on Instagram for the past few years, you must have come across Kim Kardashian's famous shapewear line named Skims. Skims is a collection of slick nude-colored garments that help tuck all the extra belly fat and bulges on your waist into a streamlined body shape. It is quite difficult to get your hands on any piece from the Skims collection because they have a huge waiting list and run out of stock way too quickly.
There are many different products in the Skims shapewear collection, including shaping underwear, shapewear shorts, shapewear bodysuits, maternity shapewear, and waist trainers. Today we will be discussing the Skims waist trainers, which are pieces of garment that help sculpt your waist into the perfect smooth hourglass shape. Waist trainers are not meant to be worn only occasionally under your clothes but need to be worn regularly for a couple of weeks or even months to get the perfect cinched waist you have been dreaming about.
If you have followed Kim Kardashian for some time, you would know that she is obsessed with having an hourglass figure and has been promoting different waist-cinching products on her Instagram. For this reason, it was no surprise when she launched her own shapewear line. According to her, her inspiration for this line came because she was unable to find the perfect waist trainer and other shapewear items that fit her needs. She recalls cutting her own shapewear at home and sewing the pieces together.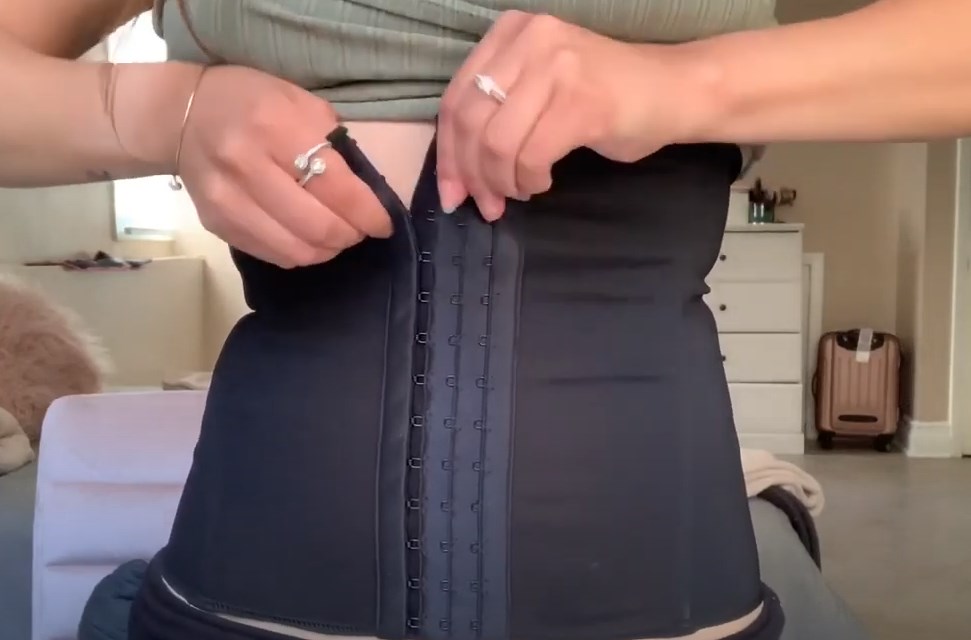 Do the Skims waist trainers work?
The Skims waist trainers have been in the limelight for quite some time now, and customers' most commonly asked question is whether they work effectively or not. There are a lot of factors one needs to consider before investing in a waist trainer, and we are going to describe how well the Skims waist trainers perform under each category.
Kim K went the extra mile to ensure her waist trainers are unique and can not be matched by any other waist trainer on the market. Not only do the waist trainers help cinch your waist and help you achieve that hourglass figure, but they also accentuate your hips and boost your bust area. The waist trainers are made from extremely thin and high-quality neoprene. Neoprene is a synthetic rubber that remains flexible over a wide range of temperatures. The garment is extremely soft and seamless. The outer layer of the waist trainer is made from seventy-five percent nylon and twenty-five percent spandex.
The waist trainer consists of a row of hooks that are used to fasten the back of the garment. The waist trainer is quite breathable and comfortable to wear.
The soft, thin, and flexible fabric helps the customer easily wear it for long hours. Since the materials used are pretty flexible, they will hold in all the bulges and fat while wearing your waist trainer. The compression caused by the different hook settings helps the user sweat excessively due to increased thermal activity and burn excess abdominal and belly fat.
Skims waist trainer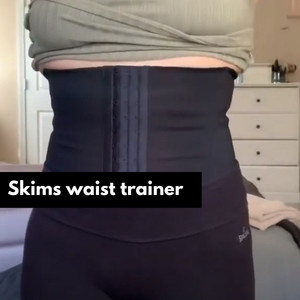 This classic waist trainer from the Skims shapewear line helps accentuate the body's natural curves. It can be easily worn under any clothing item or during gym workout sessions to assist your body sweat more. Excessive sweating occurs due to the body's core producing more heat and, in turn, burns more fat. Kim Kardashian paid special attention to the invisibility of the waist trainers under any garment. They are made from ultra-thin, stretchy, and high-quality neoprene, which is extremely soft to touch. The best part of this waist trainer is that it is extremely comfortable to put on, unlike many other waist trainers on the market. Once you put the waist trainer on, you can hardly feel anything.
The brand has made a remarkable effort to be inclusive of women of all shapes and sizes, as is evidenced by the various sizes available. The sizes range from extra-extra small to four times the large size. The waist trainer is available in two colors: clay and onyx.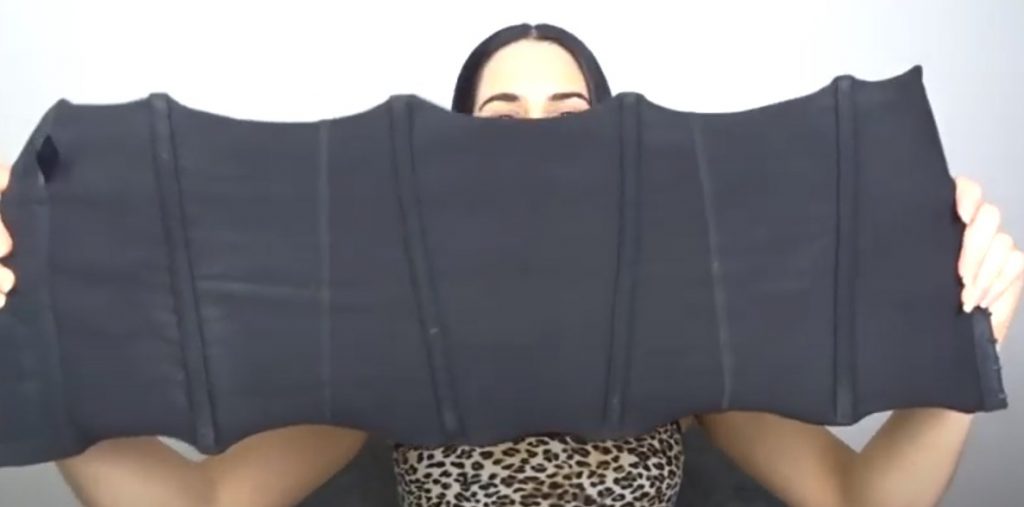 Another great thing about the waist trainers is that they come in a really handy packaging. The packaging is a small zipped case that customers can use to carry other essentials during travel like undergarments, makeup, skincare, and more.
The price point of the waist trainers is quite in line with other competitor waist trainer brands. The cost of the waist trainer falls in the $60-$70 price range. This product has many shining reviews from customers who claim that their stomachs looked a lot smoother under their clothes when they wore the waist trainer. Many claimed that their waist looked more defined and saw improvement in their postures. Another great review about the waist trainer stated that there was a decrease in appetite after wearing the waist trainer regularly, which caused the customer to consume smaller portions throughout the day rather than one heavy meal at once.
Handwashing the waist trainer with cold water is recommended instead of washing it in the laundry or washing machine. You should not try to iron, bleach, or dry clean the waist trainer for its longevity.
Pros
It is extremely comfortable
It is super flexible and stretchy
It is soft to touch
Provides support
Improves posture
Cons
The hooks are quite small
The material can stretch too quickly
Customer reviews: Skims Waist Trainer
Highly recommend!
Summary
I am in love with my Skims waist trainer! It provides the perfect amount of compression and support to help me achieve my waist training goals. The fabric is soft and comfortable, and the design is sleek and flattering under clothing. I wear it every day and have noticed a significant improvement in my waistline. Highly recommend!
Would definitely recommend!
Summary
I was hesitant to try a waist trainer, but I am so glad I did! The Skims waist trainer is a game changer. It gives me the hourglass figure I've always wanted and helps improve my posture. The sizing was spot on and it fits snugly without being too uncomfortable. I wear it for a few hours each day and have already seen results. Would definitely recommend!
It's made with high-quality materials and is very durable
Summary
I've tried other waist trainers in the past, but the Skims waist trainer is by far the best one I've used. It's made with high-quality materials and is very durable. I've been wearing it during my workouts and it helps me sweat and burn more calories. It's also comfortable enough to wear throughout the day. I'm so happy with my purchase and would definitely recommend it to anyone looking for a quality waist trainer.
Frequently asked questions
Are waist trainers effective in cinching the waist?
When used on a regular basis, waist trainers can help individuals attain their ideal body goals. Waist trainers should be worn in conjunction with regular exercise and a nutritious diet. They also serve to develop the user's core muscles and offer lumbar support. However, if consumers want to see long-term effects, they must wear their waist trainers daily.
Are waist trainers safe to use?
Waist trainers are safe to use if worn in the correct manner for the recommended number of hours. If you suffer from any health issues, you should consult your doctor before investing in a waist trainer. Pregnant women and those who have recently given birth should also talk to their doctors and only invest in maternity shapewear. Remember never to cinch your waist trainer too tight or wear it for more than the recommended number of hours. If you feel the slightest bit of discomfort, remove the waist trainer, and ensure you bought the correct size.
How much time does it take to see results?
Waist trainers need to be worn for the recommended number of hours every day for up to a couple of weeks or months. Some people see results quicker than others, so there is no fixed period for everyone. Some people notice their belly getting flat and improvement in their posture within a couple of days, while others will notice these results in a matter of weeks. The waist-cinching effect is, however, immediately felt and noticed.
Can waist trainers improve my posture?
A waist trainer tightens around your waist, putting pressure on your core and perhaps lengthening and straightening your spine for better posture. This will help you become more upright and balanced in the long run.
Can I wear my waist trainer to sleep?
Think twice if you're thinking of going to bed with your waist trainer. Going to bed with your waist trainer on may be quite inconvenient and might affect the quality of your sleep.
Is there a difference between a corset and a waist trainer?
Corsets are garments that are worn beneath your clothes to shape your figure and decrease your waist size by using tight laces. Compression fabrics are used in waist trainers to pressure your abdominal and belly area, forcing you to sweat profusely. You sweat and burn stomach fat as your body creates greater heat.
Conclusion
Skims have been the talk of the town for quite some time, and many people have had the chance to try them. Kim Kardashian has tried to change the shapewear game by introducing her own shapewear line with various products. Since she is famous for her curves and perfect hourglass figure, many people wait on long waiting lists to get their hands on her products. Skims waist trainers have received shining reviews from many customers around the globe and are known for the level of comfort they provide.
Everyone has different preferences when it comes to waist trainers; however, users who praise Skims waist trainers give solid reasoning for their love for the garment. Kim Kardashian made sure her waist trainers were unique and unmatched by other competitor brands. She ensured that the Skims waist trainers looked invisible under any type of clothing. Thus, she designed them using ultra-thin and high-quality neoprene that stays flexible over a range of temperatures.
We hope this review was helpful for anyone looking for in-depth information about the Skims waist trainers and what they offer. Investing in any garment that impacts your body should be a decision made carefully, and we hope you find the best waist trainer for yourself. Happy shopping!