Have you ever attempted to go shopping for the perfect outfit for an event you were looking forward to, only to be discouraged by the availability of attractive, fashionable clothing that speaks to your sense of style – and fits properly? Did you shop every designer store you could find, only to discover the plus size fashions sold were nothing short of matronly? And have you possibly found the right dress, but weren't sure if you needed to purchase plus size shapewear to go with it?
Whether we acknowledge this or not, designer plus size fashions are not as widely available as we'd like them to be. This can be largely inconvenient, especially for rubenesque and beautiful women who are larger than the stereotypical 00 models stalk-walking down the runway at the premier shows of each season. What good is finding good plus size shapewear for larger women when the clothes they're wearing do nothing to flatter them, appeal to their senses and make them feel confident and sensual?
Finding Plus Sized Fashion that Flatters and Appeals to You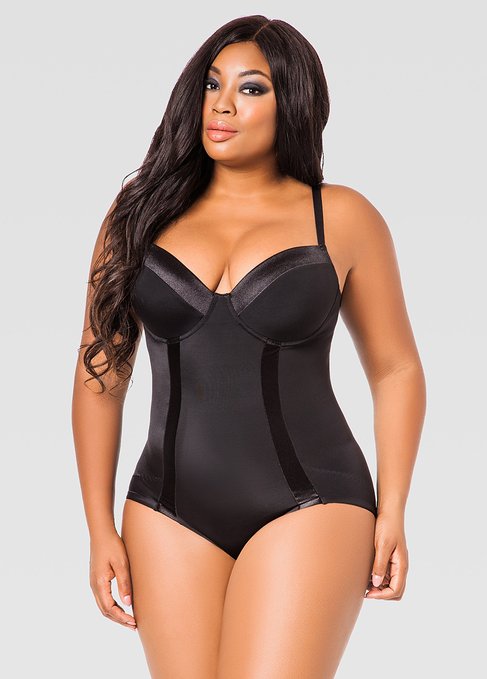 Finding flattering clothing that appeals to the larger-than-life beauty might be a little difficult, but the truth is that it's getting easier as every season passes. Fashion designers who have a passion for designing maxi dresses, business suits and more for full figured beauties have been growing steadily in recent years. Urban plus size clothing is available through retailers like Jimmy Jazz, modern and casual, romantic clothing through Ashley Stewart, and rocker-friendly styles through Torrid. However, don't discount some of the more mainstream clothing retailers. I've found several fabulous finds at places like Macy's, Kohl's and yes, even Targee (Target, duh!)
Shop for Plus Size Fashion
Does the lack of "high-fashion" in the names I've just mention bum you out? Please don't let that fool you! Designer plus size fashions are increasing in astonishing numbers, even as we speak. Whether you're aware of it or not, some of the more popular "skinny bitch" designers are hopping on to the trend and riding it for the course. Let's hear a collective shout of joy for the death of full figured clothing that's more suitable for a table or curtain rod than it is for sassy ladies like yourself!
Plus Size Shapewear: Pull Your Look Together!
Once you've found a beautiful outfit, make sure you look absolutely stunning by adding the right shapewear. It doesn't matter what size you are, every woman can add some extra oomph to her appearance by enhancing her best assets or playing down features she doesn't like through the use of body slimming shapewear. Bodyslimmers can smooth and control the tummy, as well as smooth lines and bumps in your dress's cling. Waist cinchers and hip and butt slips can pull in your waist, enhance your curves and help keep you covered in case the wind blows haphazardly, putting you at risk for exposure. Don't fret about whether you're doing too much by wearing or purchasing plus size shapewear. Even celebrities use shapewear to pad, minimize and enhance what Mama gave them. Spanx, Vedette and Squeem are household names for celebrities of all caliber – including Oprah, another full figured woman in her own right!