What is the Sweet Sweat Gel? Sweet Sweat Gel is a product manufactured by Sports Research. Sports Research, founded in 1980, is a family-owned and run business devoted to offering high-quality health and wellness products that complement your active lifestyle. The business stands behind its products since it only utilizes the highest-quality raw materials supplied from the industry's leading sources. It acquires high-quality nutraceutical components from all around the globe, many of which have been the subject of scientific research. Sports Research is proud to continue its long legacy of assisting families in achieving their health and fitness objectives by providing high-quality items at a reasonable price.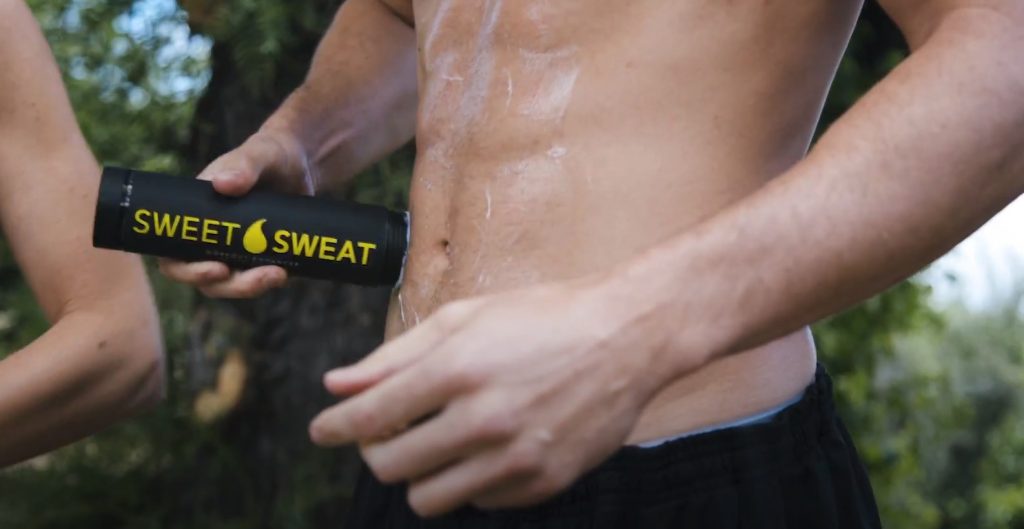 The brand sells a range of health and fitness products. One of its product ranges is named Sweet Sweat, under which it sells Sweet Sweat waist trimmers and gels. Both these products are designed to enhance the workout experience and boost the thermogenic effect in the abdominal part of your body.
The waist, upper arms, and thigh trimmers are reported to raise core body temperature during exercise, resulting in increased sweat and heat generation. When used during a workout session, the arm trimmers give thermal compression to the bicep region, causing an increase in heat and sweat. Sports Research promises that by raising thigh heat and perspiration, its Sweet Sweat thigh trimmers will not only help burn more fat but will also help you avoid painful injuries in the hamstring and quad areas.
The Sweet Sweat Gel, on the other hand, is designed as a topical workout enhancer. The gel is supposed to be applied to the target areas before exercising or working out. It is meant to stimulate blood circulation and perspiration during workout sessions. It promotes the burning of more calories, which leads to weight reduction by boosting sweating. It also guards against muscular sprains, strains, and shin splints. The workout enhancing gel is sold independently as well as in conjunction with the company's Sweet Sweat trimmers. Sports Research also recommends customers apply the topical gel before putting on the trimmers for optimal fat-burning results.
How does Sweet Sweat Gel work?
Sweet Sweat works by causing sweating in the parts of the body you apply it to. Sweating requires energy; thus, the more you sweat, the more energy you expend. As a result, more calories are burned, contributing to weight reduction. It is most effective when applied during aerobic or intense interval training. The sweat production is increased due to the increased thermogenic activity in the body after the gel is applied. It targets slow-responding or problem regions where fat dwells, such as the belly, upper arms, and inner thighs.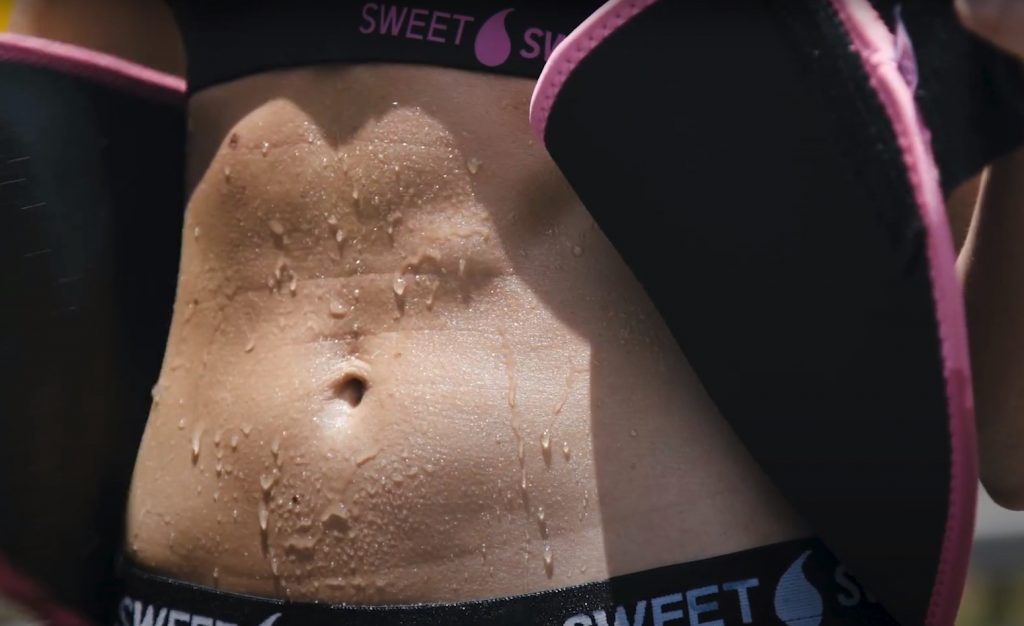 Ingredients in the gel
Sweet Sweat Gel contains a bunch of amazing ingredients that are not only safe to apply to your skin but also contribute a great deal to increasing thermogenic activity by improving blood circulation. Let us take a closer look at each of the ingredients and understand what they do. The key ingredients listed on the back of the packaging include White Snow Petrolatum, Acai Pulp Oil, Organic Coconut Oil, Organic Jojoba Oil, Brazilian Carnauba Wax, Pomegranate Seed Oil, Virgin Camelina Oil, Aloe Vera Extract, Squalane Oil (Olive), d-Alpha Tocopheryl (Vitamin E), Natural Fragrance.
Acai Pulp Oil
Acai berries are used to make acai pulp oil. It has been utilized by Brazilians for hundreds of years for its antioxidant and therapeutic properties. It is thought to make you look younger and slow down the aging process.
White Snow Petrolatum
Petrolatum is a petroleum-derived combination of several hydrocarbons. Its primary function is to protect the skin against irritation caused by moisture, dryness, and other factors. It acts as a moisturizer in effect.
Organic Coconut Oil
Coconut oil is made from the flesh of a coconut. It is one of the most commonly used ingredients with thousands of health, food, and medical applications. It's a great moisturizer that's also been used to treat serious skin disorders like eczema.
Brazilian Carnauba Wax
Carnauba wax is made from the leaves of the Copernican prunifera palm tree in Brazil. Because of its glossy finish, this ingredient is frequently used in the cosmetic business. It is also safe to eat in some cases and is used in making candies, snacks, and other edibles.
Pomegranate Seed Oil
Pomegranate oil, extracted from the pomegranate seed, has been used to treat several skin issues, including acne and other skin problems. It contains anti-inflammatory and anti-aging properties as well. It's one of the most opulent oils on the market, with several health benefits.
Squalane Oil
Squalane oil is obtained from olives. Because squalane is naturally produced by the human body, its derivative, squalane, is a good moisturizer for the hair, nails, and skin; our bodies know exactly what needs to be done with it.
Virgin Camelina Oil
Camelina oil is a gourmet cold-pressed vegetable oil made from the seeds of the Camelina Sativa plant. It has a pleasant scent and is high in vitamin E. It hydrates and protects the skin from free radicals.
Organic Jojoba Oil
Jojoba oil can be used to soothe sunburned skin. It works as a moisturizer and also has antibacterial qualities. It's made from the seeds of a plant found in the United States and Mexico.
d-Alpha Tocopherol (Vitamin E)
This is vitamin E in its purest form. It has anti-aging qualities and may be administered topically to the skin.
Aloe Vera Extract
One of the most popular plant extracts is aloe vera. It is commonly used as a laxative, but it may also be used to treat skin disorders like acne. It's been used to treat wounds as well.
Fragrance
One of the main selling points of Sports Research when it comes to the Sweet Sweat workout enhancing gel is the fragrance. The gel comes in various scents. The original gel has a clean scent that stays before and after you are done working out. Other gel fragrances include coconut, tropical, citrus mint, and vanilla. The idea is to leave the user smelling great despite sweating profoundly during the workout sessions. The reason the fragrance stays even after working out is due to the fact that the gel is made from many oils. Oils tend to extend the longevity of the scents on your skin.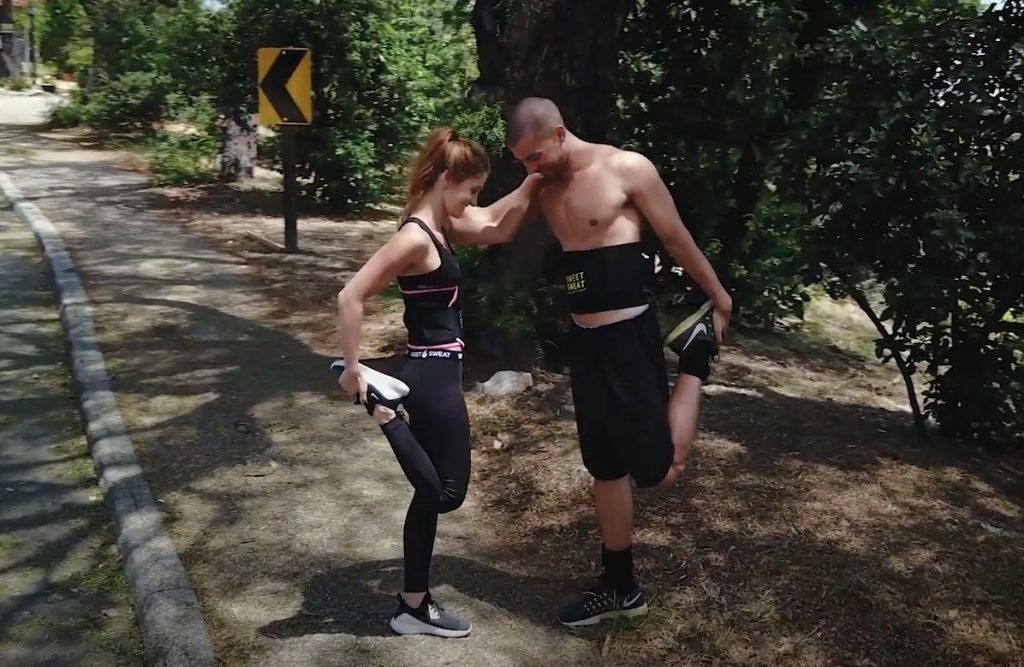 Sweet Sweat Gel products
Sports Research makes its Sweet Sweat workout enhancer gel in two different packaging. Although the packaging is different, the product contained in them is the same, and the scents are common to both. The brand provides its customers with two different options, including stick packaging and jar packaging.



Sweet Sweat Workout Enhancer Gel Jar

Boosts sweating
Natural ingredients
Enhances workout experience
Large sizes will last longer




Sports Research Sweet Sweat Gel Stick

More portable
Easier application
Boost sweating
Enhances workout experience
Available in all scents




Sweet Sweat Gel Stick + Waist Trimmer

You get to try both products together
The bundle offers you a discounted price for both items
Sweet Sweat Workout Enhancer Gel Jar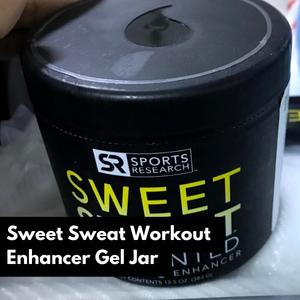 The Sweet Sweat Gel Jar comes in two different sizes, a smaller and a bigger size. The smallest size consists of 6.5oz of the product, while the larger jar contains 13.5oz of the gel. The jar is great for customers who want more of the gel and tend to use it more often than others. The gel from the jar needs to be applied by hand to the target areas.
The 13.5oz jar comes in several scents: coconut, citrus mint, vanilla, tropical and unscented. You can purchase the product through the official website as well as on Amazon.
Pros
Boosts sweating
Natural ingredients
Enhances workout experience
Large sizes will last longer
Cons
The application process might get messy
The smaller jar only comes in the original scent
Sports Research Sweet Sweat Gel Stick
The same product also comes in a stick form which is great for customers who do not like applying the gel with their hands. The stick is portable and can be carried everywhere. It can also easily fit into your gym bag. You have to roll over the stick on the target areas. It is also available in all the same flavors as the jar and can be bought through the official website and Amazon.
Pros
More portable
Easier application
Boost sweating
Enhances workout experience
Available in all scents
Cons
There is only one size available
Sweet Sweat Gel Stick + Waist Trimmer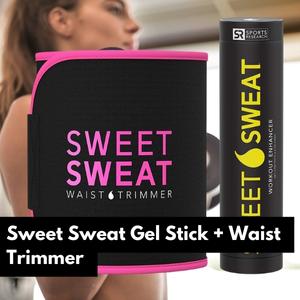 The Sweet Sweat waist trimmer is a fitness belt that is worn around the waist to help burn belly fat and lose weight. During exercises, it's worn around the waist to help raise your core temperature. By increasing sweat and thermogenic activity, the product is meant to make your workouts more satisfying.
The waist trimmer should be used in conjunction with the brand's Sweet Sweat workout enhancing gel, which helps to enhance blood circulation during an exercise, resulting in increased sweating. Because of the increased sweating, the user burns more fat than he would if he didn't use the Sweet Sweat gel.
The Sweet Sweat waist trainers come in a variety of styles, colors, and sizes. Thousands of customers have given the waist trimmer glowing reviews, claiming that it has aided them in achieving speedier results in their quest to lose abdominal fat.
The waist trainers are available in a variety of styles and collections, including Xtra Coverage, Pro, and Toned. The Xtra Coverage collection includes belts that cover a larger portion of the user's torso, allowing them to burn more belly and abdominal fat. With the aid of adjustable double Velcro straps, the Pro collection includes waist trimmers that create a tighter fit.
Sweet Sweat waist trainers are constructed of Neoprene, a flexible material that can withstand a broad variety of temperatures. Each Sweet Sweat waist trimmer include a moisture-wicking inner lining to keep the waist trainer from slipping off a user's waist during intensive exercises. The waist trimmer may be worn throughout any type of training, including HIIT, cardio, cycling, or walking out with friends.
Pros
You get to try both products together
The bundle offers you a discounted price for both items
Cons
Discount is not useful for users who already own the waist trimmer
How to use Sweet Sweat Gel
The Sweet Sweat workout enhancer gel should be used before starting your workout session. Apply the gel liberally to all targeted regions of the body without rubbing it in. Your higher heart rate activates Sweet Sweat, which may help you sweat more during exercise. This topical gel is most effective when used for cardio, circuit training, or intense interval training. It may also be used in dry or infrared saunas and when swimming.
Because the benefits will be reduced if Sweet Sweat is placed over any other cream or lotion, it should be applied straight to the skin. To avoid friction and promote breathability, try wearing the Sweet Sweat gel under loose garments.
After an exercise session, wipe the product off with a towel before showering to remove it from your skin. This gel is significantly more effective when used in conjunction with a waist trimmer, which boosts thermogenic activity around the waist.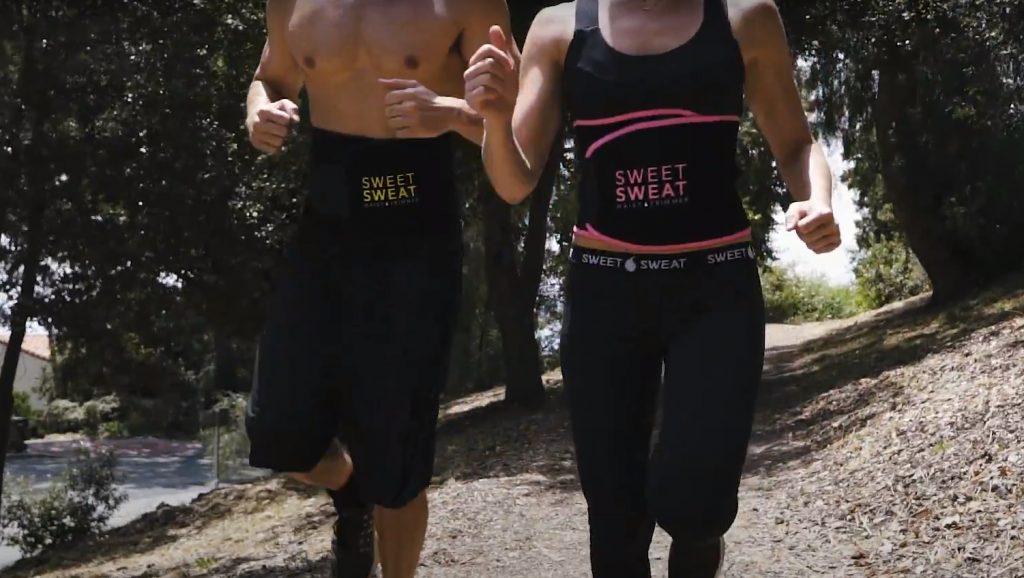 Frequently asked questions
What is the refund policy on the Sweet Sweat gel?
The manufacturer provides a 90-day money-back guarantee.
Only purchases made on Amazon and the official Sports Research website are eligible for this offer. Purchases made at other stores must be followed up with those stores directly. The money-back guarantee is only applicable for the initial purchase, and it will not be fulfilled if the customer does not have a receipt. Simply enter your order number and email address into the website to receive a return authorization number. To complete the returns process, write this number on the package you're returning.
What is the best way to use a Sweet Sweat waist trimmer?
Sports Research products come with step-by-step instructions on how to use them. You should follow the product instructions, which include applying the workout enhancing gel before putting on the waist trimmer and using the trimmer for no more than 2 hours every day. You should also follow your waist trimmer belt's cleaning and maintenance directions.
Conclusion
In conclusion, Sweet Sweat workout enhancing gel is a great product for regular gym-goers and athletes who want to enhance their workout experience and push their limits in the gym. The product helps increase thermogenic activity by promoting excess sweating and helping you burn more fat. The Sweet Sweat gel is available in two different forms: the jar and the stick. It comes in various scents that last even after you have finished working out. Sports Research recommends using the gel prior to starting your workout and in conjunction with its neoprene waist trimmers for optimal results.