Thousands of young girls follow Instagram models or beauty influencers with a snatched waist and the perfect hourglass figure and wonder how they too can achieve that. While it is not a secret that most Instagram pictures are heavily edited, some models and influencers do have a streamlined body shape in real life too. In the race to achieve the same results, different companies came up with the idea of waist trainers that help you tone your body and burn belly fat along with light exercises and a healthy diet.
The ever-increasing demand for the perfect hourglass figure has caused products like waist trainers to flood the market. One of the best-selling brands that make great waist trainers is Yianna. This article will shed some light on the brand, its origin, and core values and review some of the best-rated waist trainers from its product line-up. If you are curious to learn more about this brand and its waist trainers, keep reading on!
1. Zip and Hook Waist Training Corset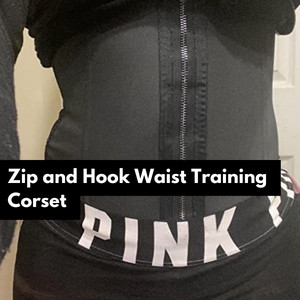 This waist trainer from Yianna is made from high quality and extremely durable latex and consists of nine spiral flexible boning supports. The boning supports give the users extra stiffness and keep them in the best posture. The hook and zip mechanism keeps the waist trainer tight on the user's waist and can be adjusted according to the user's liking. It is recommended to wear this corset while working out since it boosts thermo activity, allowing the user to sweat more and burn more abdominal fat.
Pros
Helps in postpartum recovery
Reduces back pain
Looks great under any outfit
Maximizes workout effect
High compression
Great support
Cons
It can cause irritation for some users with sensitive skin
2. Short Torso Waist Trainer Corset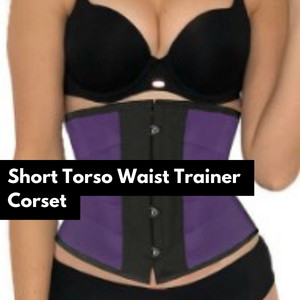 The short torso waist trainer comes with hook and eye closure and consists of elastic steel bone supports. These flexible bone supports allow the corset to return to its original shape regardless of how much it is stretched. This waist trainer is specifically made for users with a short torso and helps to reduce at least three to four inches when worn regularly. It is made of breathable latex and has an inner lining made of cotton, which helps in absorbing all the sweat. You can wear this waist trainer while at home, walking, working out, or working.
Pros
Nine spiral steel bones
Two layers of upgraded fabric
Three adjustable hook and eye closures
High compression
Great support
Cons
It can cause irritation for some users with sensitive skin
3. Latex Sport Girdle Corset Waist Trainer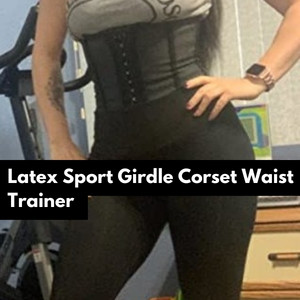 This corset waist trainer is made up of three layers of fabric, with the inner layer constructed with about 96% of cotton. The corset has boning on both front and back sides for maximum support. It can be used by users with a short or long torso and helps reduce at least three to four inches when you wear it regularly. This waist trainer corset promotes thermo activity, gently uplifts the under-bust, and helps in postpartum recovery and in lose weight.
Pros
Nine spiral steel bones
Three layers of upgraded fabric
Three adjustable hook and eye closures
Gently lifts under bust
It helps in reducing waistline by three sizes
Cons
It can cause irritation for some users with sensitive skin
4. Slimming Sauna Waist Trimmer for Weight Loss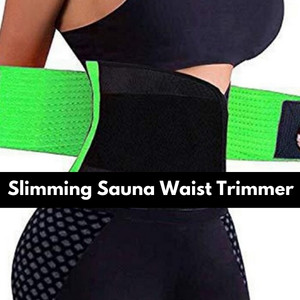 The slimming sauna waist trimmer is made from premium neoprene, which stays flexible under different temperatures. This product is breathable, adjustable, and promotes abdominal fat burn. The trimmer can be used with all sorts of workout routines and provides great back support to the user. The user does not need to worry about fitting into the trimmer belt since it is extremely stretchy. It helps relieve pain, improves the user's posture, and provides lumbar support. Wearing this trimmer regularly will boost the user's metabolism and help in burning fat.
Pros
Double Velcro closures
Adjustment for size accuracy
Four reinforced bones
Compression shape
Increased sweat
Cons
It can cause irritation for some users with sensitive skin
5. JSculpt Double Training Waist Belt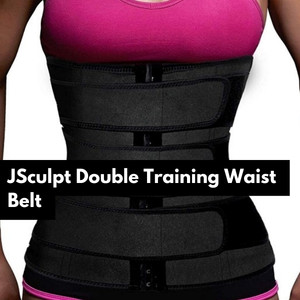 This double training waist belt has a double layer compression mechanism for more effective results. The waist trainer is also quite wide, providing more coverage for a user's abdomen area. Wider coverage will cause the user to sweat in more places and burn more fat. The waist belt consists of a double belt and zipper combination, which can be easily adjusted according to the user's shape and size. It also has nine steel bones which provide great support to the user. To prevent skin irritation, the inner lining of the double training waist belt is covered with a supportive cloth. The belt is made from natural latex rubber which provides high compression and flattens your stomach. It is recommended to wear this training belt while exercising or working out to boost more sweating. Unlike many other waist trainers in the market, the JSculpt double training waist belt is not flimsy and lasts the user for a very long time due to its durability.
Pros
Smooth zipper mechanism
Adjustment for size accuracy
Easy to take on and off
Nine steel bones for waist and back support
Compression shape
Increased sweat
Internal four groups of hooks
Cons
It can cause irritation for some users with sensitive skin
A little about Yianna
Yianna is originally a lifestyle brand that aims to provide comfortable fitness and athleisure products for everyday use. The brand believes that style, comfort, fashion, performance, and fit are the most important factors in making good quality products for fitness enthusiasts. They believe their products are a must-have for anyone's activewear wardrobe. Yianna specializes in waist trainers, leggings, shapewear, and sports bras. Yianna ensures that its products are top-notch with the highest quality and most affordable prices on the market. The brand believes in providing great value for the money spent by the user without breaking their banks. Yianna highly appreciates honest feedback from their users because they believe in making their products better to cater to all body shapes and sizes.
The waist trainers are targeted toward women who wish to burn fat around their abdomen or tummy area. Yianna waist trainers are known to strengthen the users' cores and help improve their back postures. The brand pays special attention to not using flimsy material for the waist trainers and makes them with sturdy material that provides support all day long. The waist cincher helps tuck in the back fat and looks flattering under normal clothing.
Yianna has also made sure to make their waist trainers breathable, a quality that many other waist trainers in the market lack. Most waist trainers fail to allow the user to breathe and relax after putting them on and carry on with their daily activities. Yianna has always emphasized the quality of the latex used in making their waist cinchers as relaxing, flexible, and breathable as possible.
Are Yianna waist trainers effective?
The brand's selling point focuses on the thick material its waist trainers are made of and the spiral steel boning, which helps to keep the waist compressed. The thick fabric consists of 3 layers which are wrapped around the waist to induce more sweating while the users carry on with their day-to-day activities.
The fat-burning process takes place due to the excess heat the body produces when the waist trainer is compressed around the user's waist. The excess heat produced by the body allows sweating to occur, which in return mobilizes the fat and removes toxins.
The compression caused by the waist trainer also trains your body to feel less hungry and reduces your appetite, which means you will get into a healthy habit of eating in small portions all day.
Different waist trainers from Yianna
Yianna is famous for the variety of waist trainers it produces. The brand has made sure to be inclusive of women of all shapes and sizes by including various sizes and shapes of waist trainers. Their waist cincher product line-up consists of a long torso, short torso, extra large to extra small sizes. Below are some of the best-selling waist cinchers from Yianna with their descriptions and benefits so that you can choose the best one for yourself.
Buying guide for waist trainers
With so many waist trainers available in the market, it can get quite overwhelming knowing what kind is the best to choose for yourself. You have come to the right place if you have been wondering what factors you should look for in waist trainers before investing your money and time! We have compiled an easy-to-follow buying guide for you to have a better idea about what makes a waist trainer effective.
Easy breathing
The most important thing you should look for when buying a waist trainer is how easy it is to breathe while wearing it. A waist trainer is supposed to be worn at least eight hours every day for a few weeks before it can give results. Wearing the waist trainer for such a long time should not cause any discomfort in breathing normally. You should ensure that you can easily breathe while sitting, standing, and walking with the waist trainer on. Also, ensure that the waist trainer does not restrict your movement even slightly.
Comfort
There is no point in investing in a waist trainer that is not comfortable. As mentioned earlier, you need to wear your waist trainer for a good couple of hours every day for several weeks. If comfort is not guaranteed, you will be unable to wear it for more than one hour. You should be able to wear your waist trainer under any clothing item. The first thing you need to consider is the type of fabric used. Make sure to choose a fabric that is breathable and durable. The durable fabric will ensure that your waist trainer does not feel flimsy and lasts for a long time. The next thing you should focus on is the placement of the pin and hook. Waist trainers come with different hook styles, including left and right hooks or one-line hooks on the front or back of the belt. Ensure you choose a style that is easiest for you to hook on and off.
Waist trainers provide the user with back support with the help of boning. There are different materials used for boning, including steel or plastic. You should check the quality of the bone materials used and ensure that you opt for steel boning. Plastic boning is a good option for waist trainers that are used for trying; however, they are not very durable and supportive in the long run.
Fitting
Before randomly picking out a waist trainer and assuming your size, please take proper waist measurements. You need to ensure that you get the right kind of fitting with waist trainers; otherwise, it kills the purpose of the compression mechanism for fat burning. Take measurements of your waist all the way around to determine the size of waist trainer you should purchase.
Rolling and bulging
If you experience any rolling or bulging around your waist after buying a waist trainer, then it means you need to size up. Sometimes, despite taking accurate measurements, you may experience bulging due to your waist trainer being too tight. Sometimes, the waist trainer may not be tight enough, which can negatively impact your waist and training goals. Rolling occurs when the edges of your waist trainer fold inward or outward around your hip area. Rolling suggests that the size you bought is too small for your waist, and you need a size up.
Updating trainer size
After using your waist trainer for some time, you will notice that you have made progress in reducing your waist size. When this happens, you will realize that your waist trainer no longer fits you as it did before. For some time, you will be able to adjust the waist trainer with the different hook settings available. However, if your waist trainer only has one or two hook settings, it will need to be replaced sooner or later. Ensure that the waist trainer you are investing in has multiple hook settings so it lasts you for a longer time.
Frequently asked questions
What is the right amount of tension for a waist trainer?
The right amount of compression or tension in a waist trainer is when it is tight enough around your waist to not slip off due to sweating and does not cause any discomfort to the user.
What is the difference between a waist trainer and a corset?
Corsets are designed to be worn under your clothes to give a better shape to your body and slim your waist with the help of tight laces. A waist trainer uses compression materials to compress your abdomen and tummy area and help you sweat excessively. Your body produces more heat, which helps you sweat and burn belly fat.
How long should I wear my waist trainer?
Normally, you should wear it for at least eight hours every day to see persistent results. However, the results vary for different body shapes, sizes, and lifestyle choices. For some people, waist trainers give results within the use of the first few weeks, while it takes a few months for others to see any result at all.
Can I wear my waist trainer to bed?
If you are thinking about going to bed with your waist trainer, you should definitely not go ahead with that idea. Going to bed with your waist trainer can be extremely uncomfortable and impact the quality of your sleep.
Conclusion
Yianna waist trainers are one the best-selling waist trainers on the market. The three layers of latex used in the trainer make it sturdier and provide support to the user. The waist trainers are made of natural latex and cotton, so the user has a comfortable experience wearing them all day and finds it easier to breathe in them. Yianna waist trainers are designed in the shape of the waist curve, giving the users the perfect hourglass figure they desire. Unlike many other waist trainers on the market, Yianna has introduced breathable waist trainers for women who find it difficult to tolerate the access heat their bodies produce. The innermost layer of the waist trainer is made from soft cotton and spandex material, making it easy for the user to wear it for long hours. Yianna waist trainers are also famous for being extremely durable since they spring back into their original shape no matter how many times you have worn them.
Another great thing about Yianna is that it is inclusive of women of all shapes and sizes. The variety of waist trainers available reflects how Yianna goes out of the way to cater to all women. With the availability of short torso, long torso, extra-large, or extra small sizes, you can pick one that perfectly fits you!
We hope you found this review of Yianna waist trainers useful and that you have a better idea about buying waist trainers after reading our buying guide. Happy shopping!