In today's time, fitness is the only lifestyle one should swear by, and what better way to practice fitness than by waist training, in the size that you know will fit your body in the best possible manner. One of the main things to remember while ordering any activewear outfit is to order a size that is not too big or too small, but rather the one that fits you just right.
This is important for several reasons, the top one being that size too small will not make you look skinny but will rather be more uncomfortable and unattractive, making all your efforts go in vain. When ordering for any waist training or activewear, one very important thing is to closely check all the brand measurements since sizes are truly the make or break feature in the activewear world.
How to measure for a waist trainer
Firstly, it is important to be fully confident in yourself when ordering any activewear. It is important to know that once you are comfortable in your body, only will you love what you order. After you're confident enough, make sure to use a measuring tape to take accurate measurements. 
More info in the post: best waist trainers for plus size women.
Remember, the measurements taken should not be too tight and should have enough space to let a finger slide in between. Here are the body parts whose measurements you must take:
Bust – measure around your chest
Waist – measure 2 inches above the belly
Hips – measure around your hips
Alongside this, one should also know that there are two kinds of sizing lists available. The initial list is general and does not change from product to product. However, the second list is customized according to the kind of product offered, which is why it should be checked when you're making a purchase.
Sizing for waist trainers
As mentioned earlier, waist trainers come in a plethora of sizes. Often, it is even tempting to choose the smallest size for yourself. However, one must remember that activewear is already expected to be small; thus, one should not order a size lower than their original size. 
Read this blog post: best waist trainer for weight loss 2022.
Steel boned corset sizing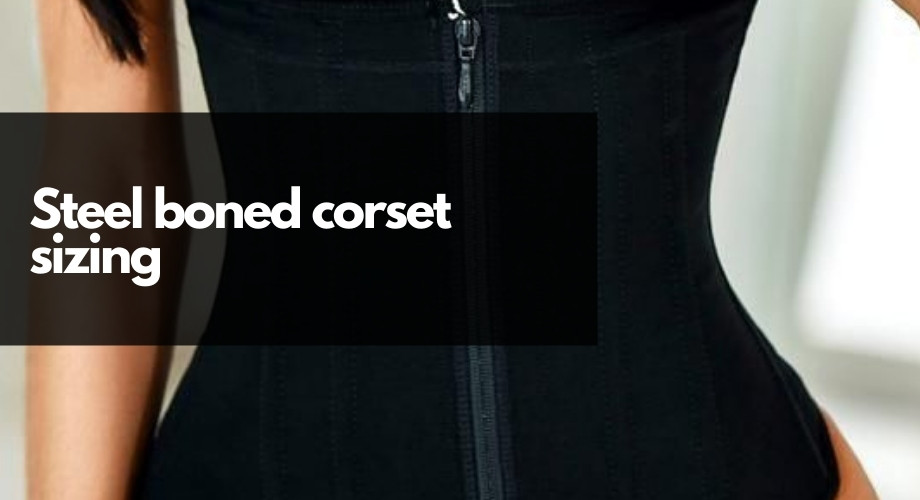 A person must be living under a rock if they are unaware of the idea of a corset, especially with all the hype that has recently been attached to them. Corsets are a crucial piece of activewear. What makes them especially stand out is the fact that you can adjust them from the back, giving you full control of the fit. The corset and waist size varies, depending on the size of the corset and the gap at the back of the corset.
Shapewear sizing
Your shapewear size is probably larger than the size that you wear for your regular clothing. However, this is no reason to be disheartened. Shapewear is extremely important since it covers the needed area and ensures that there are no visible wrinkles or bulges. Also, it is always recommended to go a size up with shapewear since they are a better fit that way. 
Read more: best mens waist trainers for weight loss.
Butt-lifting jeans sizing
Butt lifting jeans, as the name suggests, give you a comfortable fit which also makes your figure look flattering. You need to make sure your hip measurements are taken accurately and chosen appropriately for these jeans since this is the most important part of the jeans.
Activewear sizing
Activewear is always close to the actual sizing, thus being extremely varied. Activewear measuredly includes all leggings and tops and is extremely customizable.
These are all the important waist trainers and their sizing charts, which present in a lot of detail how one should go about wearing appropriate clothing, depending on the kind of apparel they are purchasing.