Are you tired of trying different workouts and recipes to help burn fat around your tummy and abdomen? Do you want to get a slim waist quickly and effectively before a big event? If your answer to either of those questions was yes, you are at the right place!
The sweet Sweat waist trainer is a fitness belt that you have to wear around your waist to help burn any abdominal fat. It is worn around the waist to help increase core temperature during workouts. The product is designed in such a way that it enhances your workout experiences by increasing sweating and thermogenic activity
The waist trimmer is recommended to be used with their special thermogenic gel, which helps increase blood circulation during a workout, resulting in more sweating. The increased sweating allows the user to burn more fat than he would without using the workout enhancer gel.
The brand has a great product lineup for waist trainers, and we have compiled in-depth information for some of their highest-rated waist trimmers. Please keep reading on to find out more!
More about the Sweet Sweat waist trainer
The Sweet Sweat waist trimmer is a product by Sports Research. Sports Research is a family-owned brand motivated and dedicated to providing the highest quality sports and health products for a healthier and balanced lifestyle. The brand's core values include using quality ingredients and materials to design its products and heavily relies on customer feedback to bring new and improved versions of products.
The waist trainer is made from latex-free Neoprene to help promote extra sweating in your waist area and burn abdominal fat. Neoprene is a synthetic rubber that exhibits great chemical stability and remains flexible over a wide range of temperatures. The waist trimmers come in a variety of colors and designs that both men and women can wear. The inner lining of the waist trainer is waterproof and will not slip off your waist while you are working out and sweating.
The brand recommends using the waist trainer along with their Workout Enhancer gel that comes in both a jar and stick. The gel is applied to your abdominal area before putting on the waist trainer belt. The gel is said to help in improving blood circulation around your waist area and aid in extra sweating during the workout.
The Sweet Sweat waist trimmers come in different colors and designs as part of their various collections. We have put together information regarding three waist trimmers from three different collections so you can pick the best one for yourself!
Toned Waist Trimmer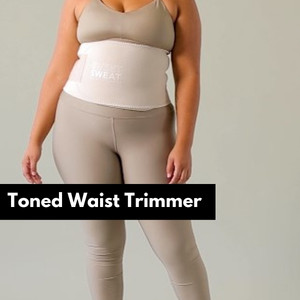 The Toned collection consists of waist trainers in beautiful earthy tones. The Sweet Sweat Toned Waist Trimmer claims to promote an extra increase in sweat and heat while working out. It comes in various earthy-toned colors, including sand, clay, stone, terra, and quartz. The product promises real results for both the short and long term.
The unique shades of the Toned Waist Trimmer will make you stand out in the gym. The collection also consists of toned arm and thigh trimmers to help you lose fat from your arm and thigh areas. You can buy it individually or complete the entire look by purchasing a matching color set. The waist trimmer can be bought in sizes ranging from small to XX-large.
Pros
Naturally flexible to adjust to your true size and shape
Made with thicker latex-free Neoprene
Moisture absorption to prevent the belt from slipping off
Promotes extra sweating
Provides lumbar support for better posture
Cons
Some people can be allergic to Neoprene
Sweet Sweat Pro Series Waist Trimmer Belt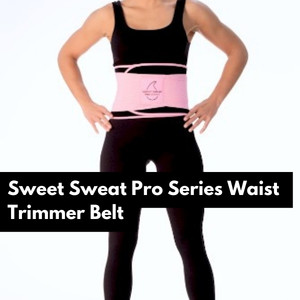 The Pro Series Waist Trimmers are Sports Research's best-selling products. These waist trimmers are designed to fit better. They are made with thicker material and superior stitching and provide extra support to the users. The Pro Series uses premium neoprene that stays flexible over a wide range of temperatures. Adjustable Double-strap Velcro is used to provide enhanced back support and a tighter fit for a more fruitful workout experience. The Neo-Sweat technology used in the waist trainers helps with moisture absorption and prevents the belt from slipping off during the workout. The waist trainers are available in black, mint, and pink colors and can be combined with the workout enhancement gel for better results.
Pros
No moisture absorption
Made with thicker latex-free Neoprene
Moisture Neo-Sweat technology
Thicker Neoprene
Reinforced trim stitching
Cons
Some people can be allergic to Neoprene
Sweet Sweat Waist Trimmer Xtra Coverage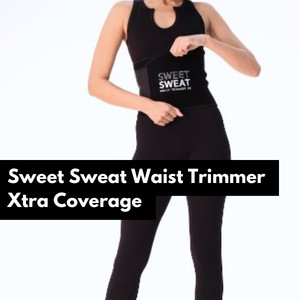 This collection was targeted toward people who wanted their waist trimmer belts to cover more torso area. The wider shaped belt covers more problem areas to target fat and promotes sweating. It is the same as their original waist trimmer, except with extra torso coverage. The inner lining of the waist trimmer prevents moisture absorption, so it does not slip off during a workout. Sports Research recommends covering as much of your torso with their workout enhancement gel before putting on the waist trimmer belt to promote more sweating.
Pros
More torso coverage for better sweating
Flexible fit
Neo-Sweat technology
Thicker Neoprene for superior heat insulation
No moisture absorption
Cons
Some people can be allergic to Neoprene
Frequently asked questions
What is the workout enhancement gel made from?
Sweet Sweat's workout enhancement gel is made from several ingredients: petrolatum, Brazilian wax, coconut oil, organic jojoba oil, vitamin e, aloe vera extract, and more.
What are the benefits of using the Sweet Sweat waist trimmer?
The brand's claim about its waist trainers can be confirmed through numerous reviews by customers who have noticed drastic changes before and after using them. Users have claimed that wearing the waist trimmer during their workout routine helps them sweat more.
How should one use their Sweet Sweat waist trimmer?
Each product from Sports Research comes with detailed instructions for using it. It is recommended that you follow the instructions on the product, which include applying the enhancement gel before putting on the belt and putting on the belt for a maximum of 2 hours per day. You should also follow their instructions on cleaning and maintaining your waist trimmer belt.
Conclusion
The Sweet Sweat waist trainers are available in many different shapes, sizes, and colors. The product has received shining reviews from thousands of users who claim that the waist trimmer has helped produce faster results in their journey to losing abdominal fat. The waist trimmer is said to work better when paired with the Sweet Sweat workout enhancement gel. The gel is supposed to promote better blood circulation and more sweating. The waist trainers are available as part of different collections, including their Pro, Xtra Coverage, and Toned collections. The Pro collection consists of waist trimmers that provide a tighter fit with the help of adjustable double Velcro straps. The Xtra Coverage collection consists of belts that cover more of a user's torso area to burn more tummy and abdominal fat. All Sweet Sweat waist trainers are made from Neoprene, which remains flexible over a wide range of temperatures. The inner lining of all waist trainers is designed to prevent moisture absorption, so the belt does not slip off a user's waist during intense workouts. You can wear the waist trimmer during any sort of workout, including cardio, HIIT, walking out with friends, or playing a workout game on Nintendo.