When it comes to a bride's undergarments, they are often the most overlooked aspects of her wedding day. The bridal shapewear a bride-to-be will choose to wear can have a huge effect on how she appears in the gown. Most wedding experts recommended that a bride should not skimp on the foundational garments for her dress if she really wants to look her best and leave a lasting impression on her  wedding day.
When a woman chooses the correct lingerie for her frame and wedding dress, these bridal garments can lift, enhance, and minimize the portions of her body that she would like to highlight and disguise. The style and type of bridal garments that a bride chooses are going to be largely dependent upon her frame and the type of wedding dress she will be wearing. For example, a strapless dress with a corset lacing detail in the back will require minimal undergarments. On the other hand, a form fitting mermaid style gown may require a bride to wear a corset or other form of shapewear.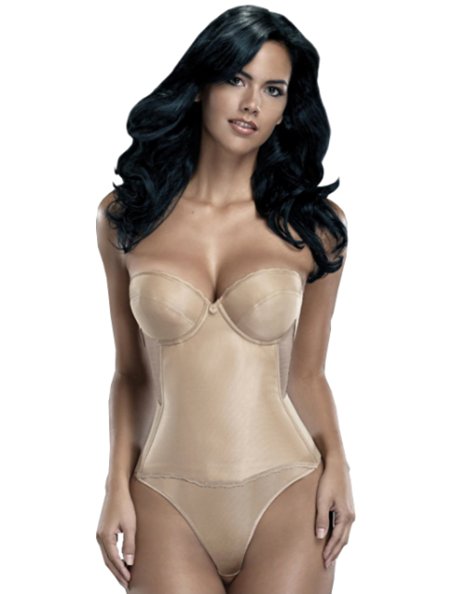 A woman with a strapless dress can even choose to forgo the traditional bra in favor of pasties or breast petals. Many brides choose to forgo bridal garments in the form of shapewear because they believe these items will be incredibly uncomfortable. In actuality, modern shapewear and slimming undergarments are fashioned from fabrics like nylon and Spandex.
These fabrics are breathable, which ensures the comfort of the bride. Modern reinterpretations of the traditional corset or bustier include torsolettes, corselettes, longline bras, and control top panties and pantyhose. When a bride is choosing shapewear, she should look for bridal garments that feature a cotton lining.
Cotton is adept at wicking moisture and sweat away from the body. The category of bridal garments also includes bridal lingerie for the wedding night. Bridal lingerie can range from the flirty and feminine to sexy and racy, according to a woman's personal preferences, but the biggest key to successfully choosing bridal lingerie is for a bride to select a style that she will feel comfortable wearing.
Finally, although the list of bridal garments in the form of lingerie is extensive, some of the most popular forms include negligees, teddies, matching bras and G-strings, and baby doll outfits. Bridal shapewear and lingerie choices are available from several retailers online.