If you are a new mom or have gone through pregnancy more than once, you would know that every mother goes through the postpartum stage differently. We all have different bodies, and we deal with our body changes accordingly. Many women may feel comfortable wearing loose clothes after giving birth, and some might want to get back to shape as soon as possible and opt for postpartum waist trainers. Always remember, there is no right or wrong way of dealing with the postpartum body, and you should do what you feel most comfortable with.
With that being said, if you are a new mom looking for the perfect waist trainer to help restore your body shape during the postpartum stage, you have come to the right place! We have written a detailed article explaining what postpartum belly wraps are and how you can choose the best one for yourself.
What are postpartum waist trainers?
Postpartum waist trainers are products meant to be worn after you give birth to help support your body. These waist trainers are mostly made of flexible materials like latex that cover your abdominal area. Postpartum should not be a time to worry about the shape of your body because birth is a beautiful natural phenomenon that should be embraced along with the stretch marks and your beautiful body. However, there is no harm to women who feel too uncomfortable and would like to opt for this option as long as their health is not impacted.
Many women deal with extreme back pain during the postpartum stage or pelvic girdle pain. A postpartum belly wrap can be helpful in such cases because it can provide extra support to deal with and reduce the pain. Some mothers also wear a postpartum waist trainer to help align their abdomen and heal a C-section incision. However, it is important to note that you should not opt for any product without consulting with your doctor. Waiting for some weeks before wearing any band on your belly is recommended because your incision area is still fresh and needs time to heal.
Many women choose to wear a postpartum gi simply to fit into their clothes without buying maternity clothes even after giving birth. It is noteworthy to avoid any kind of waist trainer that will greatly compress your abdominal area, making it difficult for you to move around and breathe properly.
Different kinds of postpartum belly wraps
Postpartum waist trainers are also commonly known as postpartum bands or shapewear. They come in various styles and types, and you find your ideal type according to what feels most comfortable. Some of the most common types of postpartum waist trainers include wraps, bands, and belts. As the name suggests, Wraps need to be wrapped around your midsection, covering most of your hip to the stomach area. Bands have adjustment straps through which you can alter the amount of compression. Belts are almost the same as wraps, except they are thinner and are worn around your belly wrap.
Our best picks for postpartum waist trainers
The postpartum waist trainers listed below have been carefully picked after considering some of the most important factors that should be present for new moms. Go through each product carefully and pick one that you think will best suit your needs.
1. Ingrid and Isabel Bellaband Postpartum Girdle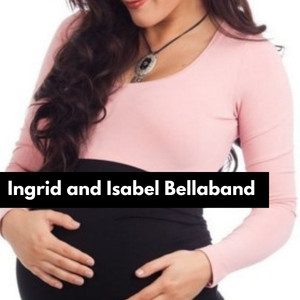 This famous and well-reviewed postpartum belly band or trainer snuggly fits your curves like a tube top and can be worn under your clothes. The materials used in this waist trainer include nylon and spandex, which help the band stay close to your body and support your belly. One of the best features of this belly wrap is that you can easily wash it in the machine because it can be difficult for new moms to keep handwashing it with a baby to take care of. It also provides extra coverage, which breastfeeding moms will appreciate.
Pros
Extremely stretchy
Soft feel and comfortable
Breathable and lightweight
It helps you fit into your non-maternity clothes
Holds its shape
Cons
The bottom band can often move up
2. Belly Bandit Postpartum Belly Wrap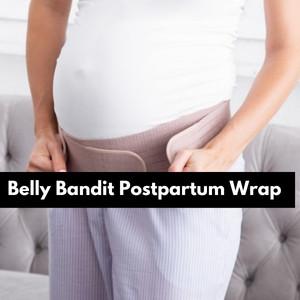 The Belly Bandit waist trainer is made from extremely soft nylon and spandex, which helps support the new mom's core muscles and compresses them without causing any pain or discomfort. It also helps new moms recover from a C-section incision. It is noteworthy that you should not wear any shapewear at least until two weeks after a C-section and always consult your doctor before using a new product. The Velcro adjustments available as part of the trainer ensure you can adjust and alter the fitting according to your preference.
Pros
Extremely stretchy
Soft feel and comfortable
Great support
It helps you fit into your non-maternity clothes
Helps with C-section incision recovery
3. Belly Bandit B.F.F Belly Wrap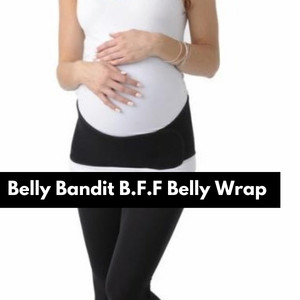 The Belly Bandit waist trainer is one of the simpler options available to choose from. It consists of customizable compression adjustments and support panels. It perfectly snugs your body and can be adjusted with the help of the extra adjustable fabric provided by the trainer to alter the fitting as per your requirement.
Pros
Extremely stretchy
Soft feel and comfortable
Great support
It helps you fit into your non-maternity clothes
Helps with C-section incision recovery
Cons
It can feel too tight if the size is not accurate
4. TiRain 3 in 1 Postpartum Belly Band
This postpartum belly band has been raved about quite a lot by new moms. It comes with a three-band setting which can be used to adjust the straps to alter the amount of compression you would prefer. This band will stay put for long hours, and the user does not need to fear it coming off.
Pros
Extremely stretchy
Soft feel and comfortable
Great support
It helps you fit into your non-maternity clothes
Helps with C-section incision recovery
Cons
It can look obvious under certain clothes
5. Belly Bandit 2 in 1 Belly Support Band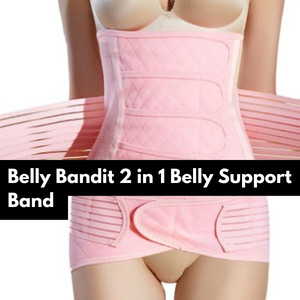 This postpartum belly band comes in two different settings. One set consists of a long band and the other consists of a short band. If you need more compression, you need to wear this band around your hip area and put the shorter band over it. Users have claimed that this band helps relieve their back pain. It is a minimal design that does not show under any kind of clothes.
Pros
Relieves back pain
Soft feel and comfortable
Great support
Very affordable
It is not obvious under clothes
Cons
The fabric can fold after regularly wearing it
6. Bellefit Postpartum Girdle Corset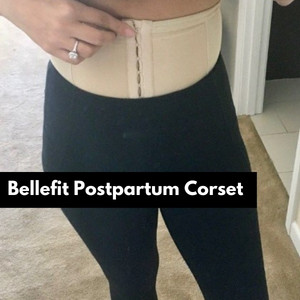 This postpartum corset is great for new moms who have undergone a C-section but do not want to squeeze the incision on their belly. This This postpartum girdle corset is great for new moms who have undergone a C-section but do not want to squeeze the incision on their belly. This corset offers great support to the user and consists of a hook and eye closures. This postpartum belly wrap is medically graded and contains a medical-grade compression mechanism. You can also use the bathroom with the corset on due to the amazing feature of access flaps.
Pros
Open bust
Powerful compression panels
Medically graded
Great support
Helps with C-section incisio
Open bust
Powerful compression panels
Medically graded
Great support
Adjustable
Buying guide for postpartum waist trainers
Trying to find the right postpartum belly wraps can be quite overwhelming for new moms. Thus, the guide we have compiled will help you understand all the features you need to look for in a good quality postpartum waist trainer. It might seem like all postpartum girdles essentially do the same thing; however, subtle differences can create a huge change in your postpartum experience. Here are some of the features you need to consider before investing in a waist trainer:
Comfort
Comfort is the most important factor contributing to a relaxed postpartum recovery experience for moms. If your waist trainer is not made with soft, comfortable materials, it can make your healing process extremely uncomfortable. A belly wrap needs to be worn for a couple of hours so choose one with a very comfortable fabric and non-irritating lining.
Easy breathing
The most important element to consider when buying a postpartum girdle is how easy it is to breathe while wearing it. After a few weeks of wearing it for a couple of hours every day, the results will begin to show. Wearing the waist trainer for such a long time should not affect your ability to breathe properly. It is critical for postpartum women to avoid any respiratory restrictions when using the belly wrap.
Fitting
Before picking a waist trainer at random and assuming your size, please take accurate waist measurements. With waist trainers, you must ensure that you acquire the right fit; otherwise, the compression mechanism will be rendered worthless. To decide the size of belly wrap you should purchase, take circumference measurements of your waist.
Frequently asked questions
How long can I waist trainer?
If you're new to waist trainers, it's best to start by wearing them for no more than two to three hours every day. Your body will eventually adjust to wearing the belly wrap, and you can progressively increase the number of hours until you are wearing it for ten hours per day. Make sure you don't go over the ten-hour restriction each day; otherwise, wearing the waist trainer for longer than that can be harmful to your body. Wearing a waist trainer in conjunction with a good diet and regular exercise will give you the best results.
What kind of exercises should I combine with wearing a waist trainer?
If you dream about accentuating your curves, then exercising at least three to four times a week with the postpartum belly wrap will give you the desired results. Some of the most effective exercises you can do while wearing your waist trainer include waist crunches, waist twists, planks, rope jumping, pushups, sit-ups, and aerobics.
What kind of results should I expect from wearing a waist trainer regularly?
Wearing a waist trainer regularly will help you get more out of your everyday workout and eat a healthier diet. Waist trainers help you attain that Instagram-famous curvy hourglass waist. They encourage you to sweat excessively, raising your body temperature. They also aid in posture improvement and back pain reduction by providing back support. Waist trainers also compress your stomach, causing you to eat smaller portions throughout the day instead of large meals all at once.
Are waist trainers uncomfortable?
If you are new to wearing waist trainers, they might initially feel a little awkward and tight around your waist. Initially, you might find it difficult to breathe; however, as the days go by and you get used to wearing it, you will start seeing results and no more feel uncomfortable.
Is it okay to sleep with my waist trainer?
Absolutely not! It is not recommended to sleep while wearing your best postpartum girdle because it may cause difficulty breathing and impact the quality of your sleep. You should be wearing the most relaxing clothes while sleeping instead of having a tight fabric wrapped around your waist.
How can I pick the best size for a waist trainer?
The first step in determining your ideal waist trainer size is to take precise waist measurements. Compare the sizes available in the waist trainer you're interested in purchasing to your waist measurements. Your waist trainer should be snug enough to keep your body in place but not so tight that you suffocate. There should be no discomfort or bruises on your skin. The waist trainer should not slide or fall when working out or moving around. Also, be sure the waist trainer does not extend indefinitely after you wear it and that it can be returned to its original shape.
Is it safe to wear girdle after pregnancy?
Yes! A girdle can be an excellent tool for new mothers to manage pain after delivery. Many new mothers opt for a wrap, waist trainer, or band of their choice to get help in relieving lower back pain, cramps, and pelvic pain.
How long after birth can I wear girdle?
It is recommended that new mothers should wait for a few weeks before wearing any sort of shapewear for managing postpartum pain or simply for fitting in their non-maternity clothes. You should consult your doctor before deciding because your doctor will guide you best. If you have received a C-section incision, the healing process will take time, and you might not want to compress the incision by any chance.
How tight should a postpartum trainer be?
It should be tight enough to snug to your curves; however, it should not cause any pain or give you trouble breathing. If you experience any pain after wearing a postpartum waist trainer, please take it off immediately and consult your doctor.
Why should I consider buying postpartum shapewear?
Postpartum shapewear can help in reducing pelvic and back pain by providing support to your belly. Many postpartum bands are known to help heal the C-section incision quickly and the overall postpartum recovery. They also provide improved mobility as it becomes easier to move around with a band providing support to your belly. It also helps keep your posture right, and you do not need to hunch forward due to your belly's weight.
What are some disadvantages of wearing a postpartum girdle?
Pregnant women usually have extremely sensitive skin. Thus, it is possible they may notice skin irritation due to allergic reactions to any material after delivery. New mothers may also find it uncomfortable to wear postpartum waist trainers consistently because they might dislike the compression feeling due to the band or belt.
Conclusion
Every woman has a unique experience when it comes to their postpartum stage. Some women require more time to understand the changes occurring in their bodies, while others want to get back to shape quickly. Many new moms also want to fit into their non-maternity clothes and choose to opt for postpartum girdle. A postpartum belly belt can also aid in providing extra compression to mothers who are experiencing pelvic pain and weak muscles.
However, it is essential that you discuss this with your doctor before buying postpartum shapewear or bands. Many women who undergo a C-section need more time to let their incision heal before they can compress it with a band or belt. For many mothers, sudden changes in their bodies can overwhelm them, and they can become excessively conscious about how they look. In such cases, new mothers want to transition from their postpartum body to their pre-pregnancy body as soon as possible. Girdle and postpartum waist trainers can help provide the extra boost of confidence new mothers need.
Postpartum waist trainers are great tools to boost a new mother's self-confidence and help her deal with excruciating pain. It can be overwhelming to understand which postpartum waist trainer might be the best fit for you; however, our detailed guide has covered everything you need to know.
We hope this article has helped you understand the features you need to look for before investing your money and time in the best postpartum belly wrap. We hope you have chosen one that best fits your needs and requirements. Happy shopping!